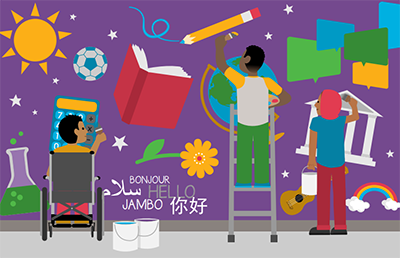 August 27, 2021
Here's a list of what you need to know about WIDA assessments, educator resources to use in the classroom, and professional learning opportunities for the 2021–2022 school year.
Assess
Teach
Learn about the WIDA English Language Development Standards Framework, 2020 Edition on the following web pages:
WIDA Español will release a new Spanish language arts framework, Marco de referencia de las artes del lenguaje del español (Marco ALE) next month. Learn more about Marco ALE and the two supporting documents on the Marco ALE webpage!
Hear from a high school student: Supporting bi/multilingual learners this school year. 
The Distance Teaching and Learning webpage features learning opportunities from WIDA professional learning and a list of resources that can aide educators in providing remote and hybrid instruction for multilingual learners.
Grow
To help navigate the unique challenges of teaching during the pandemic, WIDA professional learning has a series of micro-offerings titled Supporting Multilingual Learners During Covid-19. These 30–45 minute courses are open to everyone and are designed for educators who work with multilingual children and youth across a variety of settings.
WIDA eLearning offers two formats of eWorkshops that allows consortium members/states to bring quality professional learning right to your computer. Learn more about facilitated and self-paced offerings on the eLearning webpage.
Stretching Your Co-Teaching is a deep-dive virtual workshop that brings educators together to discover strategies for shifting from isolated teaching practices to more intentional and integrated collaboration. A new cohort is being offered November 1–22, 2021. Learn more and register.
Research
Check out the Research webpage to dig deeper into how WIDA experts are leading the way in building knowledge about supporting the academic and social success of multilingual learners.
Stay Connected
Get the best of WIDA in your inbox. We offer several newsletters and emails on a variety of topics related to multilingual learners. Subscribe to receive messages from WIDA.
Follow us on social media. Connect with us on Facebook, Twitter and Instagram to stay up to date on the latest news in multilingual learner education and to enter one of our social media giveaways! Follow the hashtags #WIDA, #WIDAEspañol, #WIDAEarlyYears and #WIDAGlobal.
Join the conversation with thousands of colleagues. The WIDA Educator Exchange Facebook group is a space where more than 4,000 members exchange ideas, share resources and engage in discussion to support multilingual learners. The Supporting Success for Multilingual Learners with Disabilities Facebook group has more than 1,000 members and focuses on sharing resources and ideas for supporting multilingual learners with disabilities.
Reach Out
As we think about the 2021–22 school year, we recognize that many of you may be dealing with a lot of uncertainty. If you need anything from WIDA, our Client Services Specialists are just a phone call or email away. All of us at WIDA appreciate you and want to make sure you have what you need to best support students and families.