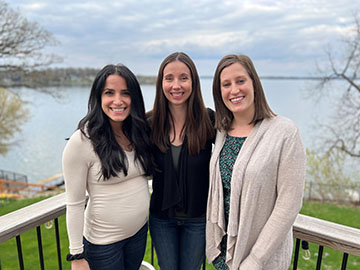 May 15, 2023
In this edition of Featured Educator, we get to know three talented educators and get a sneak peek at their 2023 WIDA Annual Conference session: "Positioned for Success – Multilingual Leadership Program." Ashley Painter and Tina Springer are multilingual educators at Forest Edge Elementary School in Oregon, Wisconsin, and Emeline Beck is a dual-language immersion teacher at Sandburg Elementary School in Madison, Wisconsin. All three have different backgrounds but share a passion for helping multilingual students become leaders. The WIDA Annual Conference is a multi-day event by teachers, for teachers. Want to know more about the 2023 WIDA Annual Conference in October? Read all about it and find out how to register.
Note: The following content has been lightly edited for clarity and length.
Tell us about your background and why you chose to pursue a career in education.
All: The three of us became educators for different reasons, but our values as educators are what bind us. We relate our work to the marigold plant and three of its distinct features: its adaptability and resiliency in varying climates, its bright and vibrant colors and its role as a companion plant. Just like the marigold, multilingual students are resilient and adaptable, having to navigate different cultural contexts and linguistic landscapes. They are bright and vibrant, bringing with them a wealth of cultural and linguistic heritage. And just as marigolds help create a healthy and diverse garden ecosystem, multilingual students contribute to a more inclusive and welcoming community, foster cross-cultural connections, promote linguistic diversity and elevate learning experiences for all.
What do language services look like in your school?
Emeline: In the dual immersion program at my school, we aim to support students in developing their bilingualism and biliteracy through a 50/50 model. We work in teams to support students in fully developing their receptive and expressive language in their L1, while bridging and expanding their skills in their L2.
Tina: We have a heritage program that aims to preserve, maintain, and affirm cultural and linguistic identities by giving students access to grade level content in Spanish. In the general classroom, we encourage translanguaging, use the WIDA ELD standards framework to guide our co-planning time, and constantly strategize on how students can show up as their full selves. If a student is funny, curious, and full of ideas during their heritage time, but is quiet, with their head down in the general classroom, that signals to us that our work needs to live throughout the entire school day.
Tell us about your 2023 WIDA Annual Conference session, "Positioned for Success – Multilingual Leadership Program." What can attendees expect to learn?
Tina: Many multilingual students are in systems that are structured to make them appear to be less capable, quiet, disengaged or indifferent. Our session will show how schools can disrupt this by creating leadership pathways for multilingual students. By rethinking the traditional model of multilingual service provision, we've reallocated time and resources to frontload services so that multilingual learners are positioned for success and leadership.
Emeline: Attendees will learn about a leadership program piloted at my school. The program provides students with in-classroom advanced learning services in leadership, aiming to position students as leaders who have been historically underrepresented in advanced learning programs. Students engage in small group work to explicitly practice leadership skills, plan and participate in civic action projects, and work with their teachers to not only preview but influence the curriculum.
What is a good first step that an educator could take to begin to build a culture of leadership among multilingual learners at their school?
Ashley: To upend a traditional paradigm of pull out/remediation, we aim to build a whole-child, asset-based portrait of our students. We begin by asking ourselves where our students shine. In what ways do they or could they view themselves as leaders? From there we begin to leverage both school and community resources to provide space to foster real life leadership opportunities.
Tell us what you did to gain the support of your school community to establish a leadership program for multilingual learners.
Ashley: We knew that we could not disrupt inequities if we worked alone. Our students' success in school is directly linked to our effectiveness in building collaborative and highly functional teams that support them. Our relationship with our co-teachers lays the foundation and we started by finding alignment in our values. Classroom teachers have a never ending and often isolating job, so not only do we want to co-plan and co-teach with the lens of language, but we want them to feel that we are all in. Once we established healthy and trusting relationships with teachers, we were able to brainstorm with them on ways to create more leadership opportunities for our students.
Tina: We are fortunate to have extremely supportive leadership from district administrators, coaches, coordinators and our principal. If that system of support does not exist for you, consider asking yourself, what small steps can I take now, what doors can I push open a bit further, and which option will result in the largest gains for my students?
As you reflect on the past year, what is a piece of advice that you'd like to share with your colleagues around the world?
Emeline: Recent years have been some of the most challenging in education. We have faced unprecedented circumstances and challenges. It can be difficult to maintain the passion with which many educators entered the field. One way we've been able to sustain our energy has been finding a shared mission. Our shared mission energizes and inspires us to continue to find innovative ways to support students, continuously leaning on each other for support.