The April edition of WIDA News is now available and includes information about the 2018 Annual Conference, Score Interpretation Resources and WIDA Screener.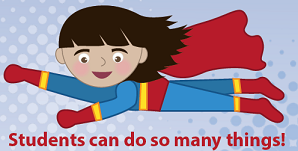 ACCESS for ELLs 2.0 Score Interpretation Resources
Score report resources for 2017-18 testing are now available. These resources include:
Interpretive Guide for Score Reports
Individual Student Score Notes Template
PowerPoint for talking with parents and families about ACCESS scores
Lesson plans for talking with students about ACCESS testing and results
WIDA 2018 Annual Conference Registration Now Open!
Come grow and connect at the 2018 WIDA Annual Conference, the largest conference anywhere dedicated to Pre-K through Grade 12 English language learner educators. We provide access to the best resources, proven strategies, and the connections to peers and experts needed to reinvigorate your practice. Registration is now open for the October 23-26, 2018 event in Detroit, with early registration running through May 31st. Join us and experience how schools and communities empower one another. Here are the top 5 reasons to attend:
Take part in a conference designed by teachers, for teachers
Join the largest conference dedicated to the teaching and support of PreK-12 language learners
Learn something new
Build lasting connections
Have a blast!
Visit the WIDA Conference Page to learn more or register today!
WIDA Screener Schedule for LEAs
WIDA and DRC are offering free live Q&A webinars on WIDA Screener. The webinars will be broken out into two different versions: one for online administration, and one for paper administration. No advance registration is required. All of these webinars will be recorded and posted on the WIDA website once completed.
Let's Talk About PD
As the school year winds down over the next few months, you have probably started your planning for next year. We know it's time for us to talk about your professional learning plans. There are now nine WIDA-licensed foundational workshops directly available to districts and schools. The workshops come to your location and are targeted at all educators who support English language learners. Schedule for just one workshop at a time or arrange for a series of workshops throughout the year. Interested in learning more or scheduling a workshop? Send a message to our partners at WCEPS to schedule a time to chat.
Featured Educator: Robb Freeman
Robb Freeman embraces values dear to WIDA as he works to empower his students, celebrate their backgrounds, and build bridges from the classroom to the community.