The August 2018 edition of WIDA News is now available and includes information about the new WIDA website, our August Featured Educator, WIDA Screener resources, WIDA Client Services Center question of the month, and registration for Fall WIDA workshops.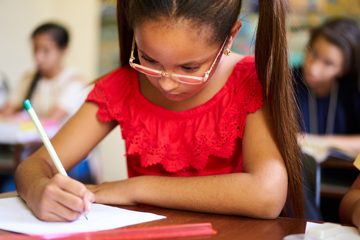 New WIDA website coming August 15, 2018!
We are excited to announce the August 15th launch of a redesigned WIDA website. Please note the new website address: wida.wisc.edu. There's no rush to change your favorite WIDA bookmarks since web redirects will be in place for one year. We hope that you will find our new site easier to navigate, more streamlined and more user-friendly overall. Starting August 15, plan to visit WIDA online at wida.wisc.edu!
Featured Educator – August 2018
Meet James Robinette from Illinois
"I've been a middle school teacher, an ESL teacher, a bilingual director, and an assistant principal in charge of bilingual education. I've recently started as principal in the LaGrange District at Congress Park, Illinois, where we just started a dual language program last year. I'm a huge supporter of immersion programs. In all honesty, when I did my first master's degree, I saw the ESL endorsement as possibly being a marketing tool for me, but once I got into the program and I learned all the linguistic aspects of it…" Read the full interview
WIDA Screener Resources
Let's Hit the Ground Running in the 2018-2019 School Year!
Mark your Calendars to join free Q and A Webinars
Helpful Flyers
WIDA Client Services Question of the Month
Q: What do I need to do to be ready to identify new English Language Learners in my school/district?
A: WIDA has a number of useful resources to assist you in identifying ELLs and determining whether a student is a candidate for English language support services: When in doubt, contact your state education agency! Details available at your member/state page. Many states have collaborated with WIDA to develop a resource to provide educators with state-specific information about ELL identification and placement.
Complete the appropriate Kindergarten W-APT, WIDA Screener Online & WIDA Screener Paper training tutorials and view corresponding test administration manuals to ensure you are fully prepared to administer your state's approved identification assessment. Work with your District Testing Coordinator and/or Technology Coordinator to ensure successful implementation of the WIDA Screener Online. Use the Technology Readiness Checklist for WIDA Online Assessments to review the most up-to-date technology considerations.
If you have questions regarding training, please contact the WIDA Client Services Center at help@wida.us or 1-866-276-7735.
WIDA Workshops - Fall 2018
Register now for the following open-enrollment workshops. They provide an economical way for you and your team to get additional WIDA professional learning. Stay tuned for more workshop dates and locations coming soon!
Interpreting WIDA ACCESS Score Reports for Instruction (1 full day)

Baltimore, Maryland
August 22, 2018

Purposeful Lesson Planning for English Language Learners (2 full days)

Baltimore, Maryland
September 12-13, 2018

Differentiation for Linguistically Diverse Students (2 full days)

Baltimore, Maryland
October 10-11, 2018
Email wida.pl@wceps.org to inquire about workshops near you, or visit WCEPS Licensed Content for more information.