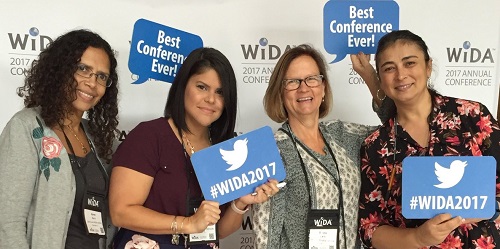 Planning Your District's Professional Learning?
WIDA Foundational Workshops are high-quality, research-based professional learning developed by WIDA and available through WCEPS. These workshops are designed specifically for consortium districts and schools and focus on the application of the WIDA ELD Standards and Assessment System.
Nine workhops are available: four cover topics about ACCESS for ELLs 2.0, three cover standards-based instructional practices, and two are focused on WIDA Screener.
Each workshop is interactive and highly engaging. Visit the Foundational Workshops Page to learn more
Call for Proposals
WIDA is now accepting proposals to present at the WIDA 2018 Annual Conference scheduled for October 23-26, 2018 at the Cobo Center in Detroit, Michigan. Under the theme, "Schools and Communities Empowering One Another," the proposal window is open from December 4, 2017 through January 21, 2018. Learn more about the conference and submit your proposal on our conference page.
WIDA Screener Recap
This Fall marked the first full-scale use of WIDA Screener Online throughout 35 WIDA member states. Since August 1, electronic tests were administered to approximately 60,000 students requiring an ELL identification assessment. Five states accounted for around 40% of test sessions during this time: Georgia, Illinois, Michigan, North Carolina, and Pennsylvania.
WIDA asked members of the LEA advisory committee what aspects of the online mode worked best for them. They told us they liked the similarity to ACCESS for ELLs 2.0 Online as well as the ability to administer tests to small groups. Perhaps the biggest benefit was saving time. "It was nice to be able to screen more than one student at a time at the schools where we have large EL numbers." In addition, they said the online screener makes it convenient to have all of the score reports in one universally accessible place.
The WIDA Assessment subcommittee has reviewed data and stakeholder feedback regarding this initial administration of WIDA Screener and agreed to some specific enhancements to WIDA Screener Online, which WIDA and DRC are now working on implementing. We will continue to review stakeholder feedback and consider other opportunities in the future.
WIDA Partners with NSF and NSTA
WIDA Researchers, led by Rita MacDonald, have recently concluded work on an NSF research grant, resulting in open-access resources to support equitable STEM instruction for English Learners. A link to these popular new resources is now on the WIDA website: Doing and Talking Math and Science
This work has led to a growing collaboration between the National Science Teachers Association and WIDA. At the invitation of NSTA President David Crowther, Rita MacDonald has presented at The NSTA STEM Expo and Forum, served as a featured speaker at the Milwaukee regional conference and two other regional conferences, and will present at the national NSTA conference in March, 2018. Next year, David Crowther and Rita MacDonald will co-present a workshop at all NSTA conferences.
Featured Educator: Rachel Burrell
Rachel Burrell's work with multilingual students is motivated by her belief that education has the power to positively impact students' lives.