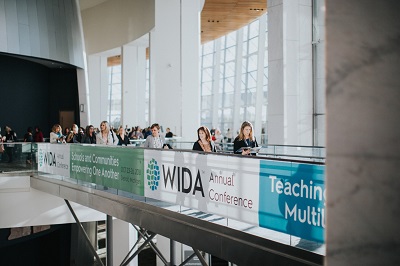 Meet International Educator Krista McInnis
This month we have the pleasure of introducing Krista McInnis, an educator from one of the schools in WIDA's International School Consortium, GEMS World Academy in Dubai, United Arab Emirates. "Our school is large and very diverse," says Krista. "Right now we have about 1,500 students from all over the world and have between 70 and 80 different languages. I've been doing something a little different this past month that has gotten a good reaction from [my students]. I print their WIDA individual report page, and as a class, we sit down together. Everybody has their own report in front of them..."
WIDA Annual Conference - 2018 Wrap-up and 2019 Call for Proposals
We want to thank the nearly 1700 educators who joined us for the Annual Conference in Detroit. It was a truly special event! Now it's time to start looking ahead to the WIDA 2019 Annual Conference. Please consider submitting a session proposal to present at this premier conference for educators of PreK-Grade 12 multilingual learners! We're accepting proposals through January 6th under the theme "Teaching for Equity in a Multilingual World." Learn more about the conference and submit your proposal now at wida.wisc.edu/conference
STEM for ELLs - Expanded Outreach
WIDA is spreading the word about exciting research into the connections between language development and STEM classrooms. This past weekend, WIDA researcher Rita MacDonald gave a plenary presentation to educators in New York at the NY State TESOL Conference. The presentation received rave reviews and many of the attendees also stopped by the WIDA exhibit booth to learn more about many of the products, services, and resources that WIDA has to offer. Meanwhile, WIDA has been developing stronger relationships with the National Science Teachers Association (NSTA) with respect to STEM for ELL students. Researcher and presenter Rita MacDonald has been presenting sessions at every NSTA event. The next STEM for ELLs presentation at the NSTA Region 2 Conference in National Harbor, MD is scheduled for November 16.
Work with WIDA - Career Opportunities
We are now recruiting for the following openings:
Assistant Director of Professional Learning
Psychometrician
Professional Learning Specialist
You can view the complete details and application requirements on our Careers page.
Question of the Month
How can I make sure my computers are ready to go for ACCESS for ELLs Online testing?
This year, all manuals and resources related to software and technology setup can be found in the WIDA Assessment Management System, under All Applications -> General Information -> Documents. Refer to the Technology Readiness Checklist and Supported System Requirements documents to make sure your testing devices are up to date. Need some one-on-one assistance? DRC Customer Service is ready to serve you at wida@datarecognitioncorp.com or 855-787-9615.
Customer Service Holiday Hours
The WIDA Client Services Center will be closed on Thanksgiving Day. Here are the holiday hours for WIDA and DRC:
Holiday Hours - WIDA Client Services Center
| | | |
| --- | --- | --- |
| Monday | November 19 | 7am-6pm Central Time |
| Tuesday | November 20 | 7am-6pm Central Time |
| Wednesday | November 21 | 7am-5pm Central Time |
| Thursday | November 22 | CLOSED |
| Friday | November 23 | 10am-4pm Central Time |

Holiday Hours - DRC Customer Service
| | | |
| --- | --- | --- |
| Monday | November 19 | 7am-6pm Central Time |
| Tuesday | November 20 | 7am-6pm Central Time |
| Wednesday | November 21 | 7am-6pm Central Time |
| Thursday | November 22 | CLOSED |
| Friday | November 23 | CLOSED |
Open Enrollment Workshops
Register Now for December WIDA Workshops! These research-based workshops are interactive with immediate classroom application.
Differentiation for Linguistically Diverse Students (1-day)
Albuquerque, NM  |  December 11, 2018
Intro to the WIDA Standards (1-day)
Platteville, WI  |  December 14, 2018
Pedagogia con Respeto: Pairing Language and Standards to Advance Student  Learning (2-day
Atlanta, GA  |  December 18-19, 2018