The October 2018 edition of WIDA News includes information about what's new with ACCESS, the 2018 WIDA Annual Conference, tips on the ACCESS writing domain, and upcoming WIDA Workshops.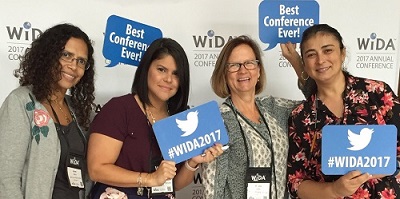 What's New with ACCESS for ELLs?
A new visual resource to help educators get up to speed with updates for the 2018-19 school year is now available. View our What's New with ACCESS Flyer and then follow the links to learn more.
Counting Down to the WIDA Annual Conference
We are a few short weeks away from the start of the 2018 Annual Conference in Detroit, MI. The conference hotel room rate only lasts through Friday, October 5th. Save your spot today!
Every year, attendees tell us that they want to see more sponsors and exhibitors. We have been listening and are pleased to announce there are more sponsors than ever at this year's event. See the full lineup and start using the online program guide and mobile app today.
Understanding the ACCESS for ELLs Writing Domain
Are you new to giving the ACCESS writing test? Wondering what student responses are scored on - and what doesn't count? All the detail you need is in the Test Administrator Manual, but for the highlights, take a look at the Writing Test Tips flyer and share with your colleagues.
Work with WIDA
We are now recruiting for the open positions of Assessment Accommodations and Accessibility Specialist and eLearning Instructional Designer. If you are interested in learning more about these positions or in applying, please visit our Careers page.