This WIDA News Extra for October 2018 includes information about our newest Consortium member and Focus Bulletin, our question of the month, and a final call to register for WIDA 2018 in Detroit.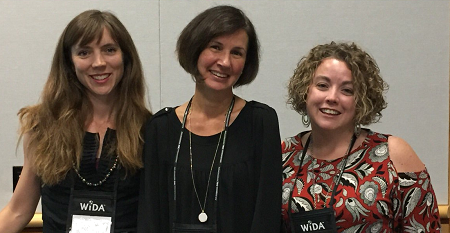 It's WIDA Annual Conference Time
Next week, educators from around the country will gather in Detroit for the WIDA Annual Conference. We look forward to meeting with you to share in a great experience. To keep in touch with conference activities, even from a distance, please visit the Online Event Guide. You can also search your Facebook and Twitter feeds using #WIDA2018.
Welcome the Newest Member of the WIDA Consortium
WIDA is proud to announce that the Department of Defense Education Activity has become the 40th and newest member of our Consortium. DoDEA serves about 7,500 multilingual students at more than 160 schools on U.S. military bases around the world.
Learn more about the DoDEA and their mission
Language-Focused Family Engagement
WIDA is pleased to announce a new Focus Bulletin on Language-Focused Family Engagement. This approach to family engagement keeps the unique needs and experiences of multilingual learners and their families, including language education, at the center of every home-school interaction.
Question of the Month
What is the difference between a WIDA Secure Portal account and a WIDA AMS account?
Depending on your role and the assessment you are administering, you may need a WIDA Secure Portal account and/or a WIDA AMS account. While both the WIDA website and the WIDA AMS website have "WIDA" in their name, their purposes and functionalities are quite different.
The WIDA Secure Portal is primarily used by test coordinators and test administrators to learn about test content and train for their respective roles. For your convenience, all Technology Coordinator resources can be accessed on both the WIDA Secure Portal and WIDA AMS. For questions regarding your WIDA Secure Portal account, please contact the WIDA Client Services Center at help@wida.us or 1-866-276-7735.
The other website is the WIDA Assessment Management System, commonly referred to as WIDA AMS. It is operated by Data Recognition Corporation, or DRC, the company responsible for delivering, scoring, and reporting on ACCESS for ELLs. WIDA AMS is primarily used by Technology Coordinators as their source for information. It is also used by Test Coordinators, and in some cases, Test Administrators, for ordering materials, test set-up, and printing test tickets. Please call or email DRC directly at 855-787-9615 or wida@datarecognitioncorp.com if you have questions related to WIDA AMS.
WIDA Client Services Center Hours
The WIDA Client Services Center will hold extended hours starting in November. You can reach one of our friendly team members as follows:
WIDA Client Services Center

Monday-Thursday 7:00 am to 6:00 pm CT
Friday 7:00 am to 5:00 pm CT

DRC Customer Service

Monday-Friday 6:00 am to 8:00 pm CT