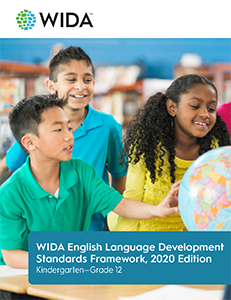 December 18, 2020
At WIDA, we believe that everyone brings valuable resources to the education community – especially multilingual children and youth. We strive to bolster equity of access and opportunity, support collaborative educator practice, and provide a foundation for systems that foster engaged, interactive student learning.
WIDA has spent more than two years collaborating with educators from around the world to develop a new, comprehensive edition of the WIDA English Language Development Standards Framework. The 2020 Edition not only enhances ideas and concepts from prior editions and resources, but also continues to break new ground and advance the field of language development in support of disciplinary learning. This new edition is central to WIDA's trusted, comprehensive approach to supporting, teaching and assessing multilingual learners.
Get your copy and learn about the foundations and highlights of the 2020 Edition, including:
Updated Guiding Principles of Language Development (2019) exemplify WIDA's overarching foundational beliefs about how multilingual learners use and develop language.
Four Big Ideas build on the Guiding Principles and support the design of educational experiences that are student-centered, culturally-and-linguistically sustaining, and responsive to multilingual learners' strengths and needs.
A robust ELD Standards Framework provides an explicit and coherent approach to language development. The framework is like a map in that it offers Language Expectations as destination points, as well as road signs to guide goals for curriculum, instruction, and assessment for multilingual learners.
Grade-Level Cluster Materials (K, 1, 2-3, 4-5, 6-8, 9-12) help educators enact the framework by providing grade-level-cluster specific representations of the framework along with additional resources such as annotated language samples, a deeper look at Key Language Uses, and a sample collaborative planning process for content and language integration.
We couldn't be prouder of this new edition, as it is a product of the dedication and hard work of passionate and talented linguists, researchers, policymakers, and language and content teachers who participated in focus groups, surveys, panels, and as critical friends. The 2020 Edition isn't just the work of WIDA, but builds on the shared knowledge, practice, and wisdom from the field; on past lessons learned; and on inspiration of what is possible for the future!
Visit the WIDA ELD Standards Framework page to learn more about the 2020 Edition, watch an introductory video and access additional resources.
Not ready to dive in yet? Don't worry. Each WIDA member/state has a unique roll-out and implementation plan.
WIDA Consortium members/states: refer to your education agency's guidelines for rollout and implementation. Each WIDA member/state determines their own timeline.
WIDA International School Consortium members: refer to independently created timelines and rollout plans developed at your school.