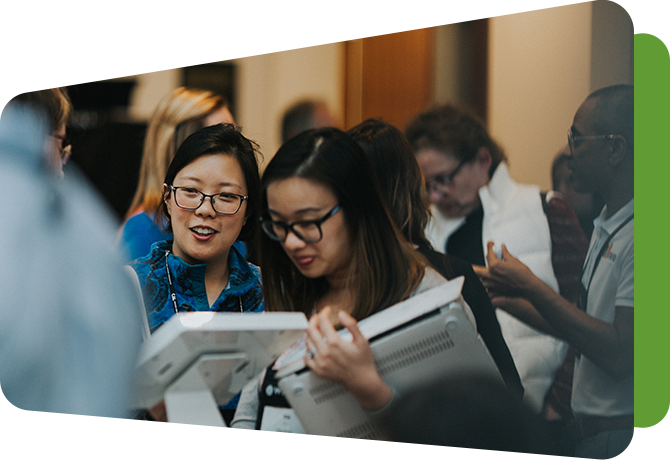 Connect with WIDA, connect with others
Conferences provide a valuable space for WIDA to connect with educators across the country and around the world. We learn from practitioners and share the latest news, research and resources from WIDA.  
WIDA is proud to support conferences with keynote speakers, session and workshop presenters, sponsorships, and exhibit booths. 
When you meet WIDA staff at conferences, you can expect them to be knowledgeable, responsive and friendly – and excited to connect with you.  
WIDA Annual Conference 
The WIDA Annual Conference is the largest conference dedicated to PreK-12 English language learner educators and administrators. Offering more than 100 educator-developed sessions and more, it is truly a conference by teachers, for teachers.
To find out more, please visit the WIDA Annual Conference page. 
WIDA at National Conferences 
WIDA also participates in a variety of regional and national education conferences.  
Recent appearances include: 
International TESOL Conference 
La Cosecha Conference 
National Association for the Education of Young Children Conference 
National Head Start Conference 
National Title I Conference 
To find out more, please visit the WIDA at National Conferences page. 
WIDA at International Conferences 
International Conferences provide an opportunity to connect with educators from the WIDA International School Consortium and across the wider global education community. WIDA welcomes collaboration with global partner organizations to connect research and practice for educators. Recently, we have been invited to present at the following: 
ACAMIS Early Childhood Conference in China 
AAIE Conference in New York City 
CEESA Annual Conference in the Czech Republic 
AASSA Educators Conference in Ecuador
ELMLE Educators Conference in Spain
ELLSA Conference in Thailand
To find out more, please visit the WIDA International Conferences page.