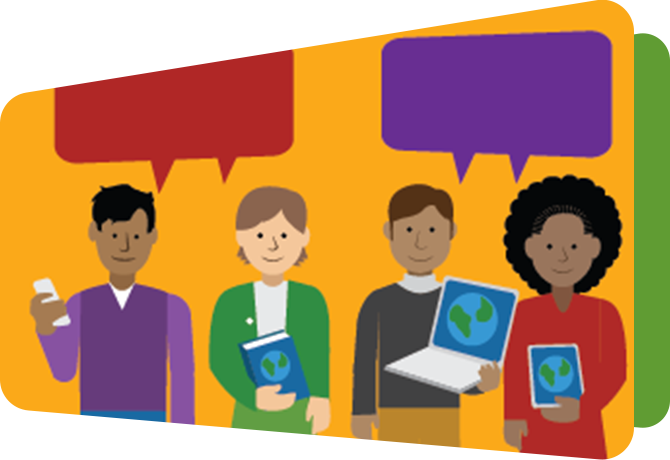 During the 2021-22 school year WIDA International Programs piloted the WIDA Global Community of Practice – a new yearlong professional learning program exploring schoolwide systems for multilingual learners. Thank you to the 2021-22 WIDA Global Community of Practice participants, WIDA has a tremendous amount of data and feedback on this yearlong pilot program. Now, WIDA staff are taking some time to analyze those insights and determine our next steps in improving how we serve the WIDA global community of schools.  
In the meantime
2021-22 WIDA Global Community of Practice 
The WIDA Global Community of Practice serves as a year-long forum for innovation and reciprocal learning focused on improving school-wide systems for multilingual learners. In this sustained professional learning journey, participants will identify a problem of practice at their school, investigate the related research and resources from WIDA and the wider University of Wisconsin-Madison community and design a solution for their context. Participants will collaborate on shared issues with other school-based teams across the WIDA International School Consortium and with support from WIDA.
The community of practice will engage in intentional learning to support schools in achieving the following outcomes:
We can evaluate strengths and areas for growth in how we serve multilingual learners
We can identify a problem of practice in our school
We can clarify how best to utilize WIDA resources to serve multilingual learners
We can gain insights from professional literature to help develop our school-wide systems
We can learn from what works in other international schools and apply it in our context
We can collaborate with others to design a solution for our identified problem of practice
This year-long process will culminate with a capstone celebration in which school-based teams will present to showcase innovation to a broader international audience. This capstone celebration will be open to all WIDA International Consortium member schools.
Who Should Attend
Participation in the WIDA Global Community of Practice is an exclusive benefit for members of the WIDA International School Consortium. This opportunity is the next step to support action planning and implementation for educators who have experience using WIDA resources or have participated in a WIDA Institute.
Please note:
Participants should have previous training/experience with WIDA. Ideally, participants have completed a WIDA Institute or the WIDA Virtual Institute.
Individual educators are welcome to join, but we suggest participating with a school-based team of EAL teachers, administrators and classroom/subject teachers.
What You Will Learn
You will complete a self-evaluation of your school-wide systems serving multilingual learners. You will connect with other school-based teams, WIDA staff and UW-Madison scholars through an online platform. The platform will be organized around eight activity systems:
Multilingualism and Language Policies
Admissions and Transition Policies
Curriculum Development and Program Design
Capacity, Staffing and Professional Learning
Collaboration
Assessment and Data
Inclusive Policies and Practices
Virtual/Hybrid Learning Environments
Across these activity systems, school-based teams will engage with current research and insights from international educators. Within the WIDA Global Community of Practice you will have opportunities to highlight how you serve multilingual learners while learning about innovative practices at other international schools. Each team will select one focus area to investigate within their school context and present their findings at the May capstone event.
2021-22 Schedule
Regional Kick-off Events: Oct-Dec 2021
Learn about the community of practice and Canvas, the online learning platform
Meet "Community Gardeners" – our WIDA international teacher-leaders
Learn about the eight activity systems and engage with resources and research
Identify problems of practice
Team and Community Engagement: Jan-Apr 2022
Participate in synchronous and asynchronous learning opportunities  
Join regional meet-ups to explore common issues
Exchange resources for community feedback
Engage in discussion boards organized around activity systems
Capstone Celebration: May 12, 2022
Present your findings as a school-based team: What did you learn? What did you create?
Open to all WIDA International School Consortium member schools
What One Team's Journey Might Look Like
We identified what's working well and where we could grow, then decided to focus on revising our school-wide language policy as our problem of practice.
We explored professional literature, investigated WIDA resources (e.g. the 2019 WIDA Guiding Principles) and connected with WIDA scholars.
We engaged with our community as well as with other international schools in the WIDA global network for specific questions and to share drafts for feedback.
We finalized our new school-wide language policy which reframes multilingualism as a resource.
We celebrated our progress and shared what we learned with the global WIDA community!
For questions or more information, contact international@wida.us.