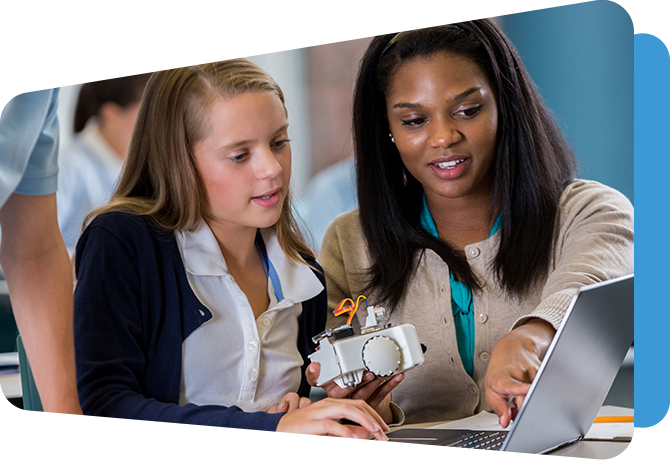 Mission
The overarching goal of research at WIDA is to promote educational equity and academic achievement for linguistically and culturally diverse students.
To achieve this goal, we work in partnership with districts, states, and national experts to conduct research focused on understanding and explaining the educational experiences and outcomes of language learners. Through our research, we also aim to inform the decision-making needs of educators and policymakers who serve these children and youth.
The WIDA research team is housed within the Wisconsin Center for Education Research (WCER). Located at the highly ranked School of Education at the University of Wisconsin–Madison, WCER is one of the first and most productive education research centers in the world.
Research Areas
Academic Language and Literacy
Our academic language researchers study the ways students need to use language to meaningfully engage in school, community, and society. Research in this area focuses on developing, improving and implementing new instructional approaches and resources for language learners and their teachers.
Psychometrics
Our psychometric and assessment researchers are continually investigating multiple facets of assessments, including item and test design, accessibility features, the consequences of testing, as well as the psychometric properties of all WIDA assessments. This team works closely with the Center for Applied Linguistics and Data Recognition Corporation, along with the WIDA Technical Advisory Committee.
Policy
Our policy researchers conduct research intended to guide practice and policy for promoting academic and social success among language learners. This includes research focused on the design, implementation, and effects of programs and policies that affect language learners. This team works closely with policymakers and practitioners at district and state levels to ensure that research results will inform decision-making.
Technical Assistance 
Our technical assistance and evaluation researchers support the decision-making needs of states and districts. The technical assistance team carries out research that informs the decisions states need to make to comply with state and federal assessment and accountability policies. Our evaluation researchers work with states and districts to understand the implementation and outcomes of particular programs and to drive program improvement.
Publications
WIDA researchers share the results of their work through a variety of outlets. WIDA disseminates research findings nationally to policymakers, educators and researchers via WIDA bulletins, reports and briefs. WIDA researchers also contribute regularly to scholarly publications including journals and books.
See below for a selection of our recent publications. See the full list of research publications and articles in the Resource Library.

A report on key components of high quality professional development for educators of English language learners.

A report on school districts whose students exhibit consistently high growth on the ACCESS for ELLs assessment.

A research brief on the size and characteristics of the so-called long-term EL population across 15 states. Full report also available.