Submitted by Bill Delbrugge, June 2019
Dubai is one of the most cosmopolitan cities in the world, due to the large percentage of expatriate residents, who speak more than 140 different languages. At Dunecrest American School, the same cosmopolitan nature is reflected on our student population's wide range of nationalities and languages. However, English is the primary language used for socialization, communication, and instruction. Most students speak English as an additional language, with varying degrees of proficiency, which may pose considerable challenges for their social and academic success.
In order to respond effectively to these challenges, Dunecrest American School (which opened its doors in the fall of 2018) became a member of the WIDA International School Consortium and started using the WIDA standards and assessments. We use the WIDA Standards framework to inform, guide and develop an inclusive program that responds to our multilingual learners' needs.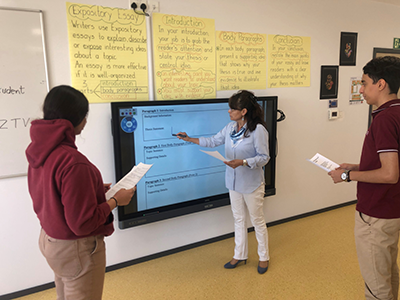 The English Language Development (ELD) Standards language works along with the Common Core State Standards and the Next Generation Science Standards adopted by the school. The WIDA Standards Framework allows us to identify the academic language needed to successfully access the content curriculum, to differentiate instruction, and design responsive support plans. As a school in its opening year, with a new and amalgamated student population (which will continue to increase), identifying language learners' needs and their proficiency levels is essential to maximize their probabilities of social and academic success.
We use the WIDA Screener to identify English language learners during the admissions process. The test results are used to determine where support is needed the most, and to design individualized English language learning plans. Similarly, the WIDA MODEL is also used for monitoring growth throughout the year. 
Another essential component of the WIDA Standards Framework that we are implementing is the WIDA Can Do Descriptors. We use the descriptors to specify what English learners can do with language at various stages of their language development process. These can do statements are also used as the basis to develop English language learning plans and to monitor progress and growth. Teachers use the WIDA test results and learning plans to inform and guide differentiated instruction in the classroom, based on learners' levels of language proficiency. We strive to ensure ELL students are not segregated, but rather empowered to respond to the highly rigorous coursework and challenging curriculum. As a school, we are committed to providing all students with the opportunity to pursue their highest potential and achieve academic excellence.
Please join Dunecrest American School on November 13-16, 2019 when they host a WIDA International Institute. You can visit the WIDA International Institutes page for information about this professional learning event.