2021 WIDA eConference recordings available
2021 WIDA eConference recordings available
WIDA is offering access to recordings from the 2021 WIDA eConference.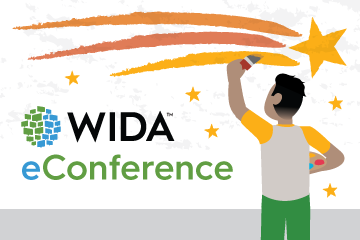 The 2021 WIDA eConference was a one-day virtual event held on October 14, 2021. The conference featured 20 sessions and Viet Thanh Nguyen as keynote speaker. Conference presenters included WIDA staff, educators and experts from the field.
Due to the large number of educators who were interested in registering for the 2021 WIDA eConference, recordings from the event are now available for purchase.
On-demand access to the 2021 WIDA eConference includes:
Twenty recorded breakout sessions
Recorded keynote presentation and spotlight sessions
Content for K-12 educators of multilingual learners
Access to recordings and materials through 2021
Certificate of attendance available for download
The fee for on-demand access is $150 and educators may purchase access to the recorded content through October 31, 2021. Visit the 2021 WIDA eConference website for additional information.
Please note, registered attendees of the live event on October 14, 2021 also have access to recordings and conference materials through 2021.