Conferences and professional learning
Conferences and professional learning
WIDA participates in many conferences and professional learning events around the world. Join us virtually at a number of events dedicated to leading the field in working with multilingual learners.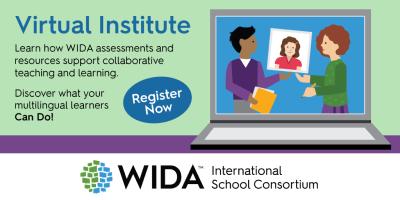 Featured professional learning opportunities
Additional learning opportunities
WIDA continues to partner with global and regional organizations to provide opportunities to reconnect with former colleagues, meet new friends and expand your personal learning network.
WIDA @Conferences: A list of upcoming events with partner organizations such as TAISI, IMS and ACAMIS.
Whether you are looking for an introduction, or a deep dive into advanced topics, WIDA International professional learning opportunities are available.