Focus School: The KAUST School
Focus School: The KAUST School
The KAUST School (TKS) embodies the five core values of adaptability, innovation, diversity, inclusivity and responsibility. To ensure that the learners are living our mission of skillfully and confidently leveraging opportunities to thrive and contribute to our complex world, we create a learning environment that ignites curiosity, inspires creativity and allows students to investigate solutions.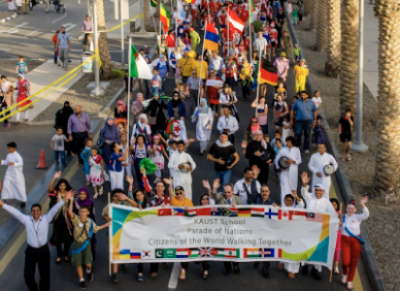 TKS curriculum supports complex, rich, and dynamic learning across a range of language domains. We emphasize the development of literacy skills, including reading, writing, listening, and speaking. TKS offers exposure to a variety of contextual-based learning situations in a safe, challenging, student-centered environment. As an International Baccalaureate World School, our instructional program is designed to help students become critical and analytical thinkers who use language effectively, appropriately and confidently. TKS embraces multilingual learners through a program of support that caters to students from non-English speaking backgrounds that are developing proficiency in the language of instruction.
TKS decided to join the WIDA global network in 2009 in an effort to support its ever-growing, culturally diverse community. At TKS, there are more than 1,600 students from 76 nationalities and 359 teachers representing 52 nationalities. The largest representation amongst students comes from Saudi Arabia, our host country, at 28% of the overall population, followed by the United States, India, the United Kingdom, and Canada. The school is linguistically diverse, with approximately 70% of students speaking languages in addition to English at home.