Global outreach: Conferences and professional learning
Global outreach: Conferences and professional learning
WIDA participates in many conferences and professional learning events around the world. Join us virtually at a number of events dedicated to leading the field in working with multilingual learners. This month we highlight the WIDA Virtual Institute.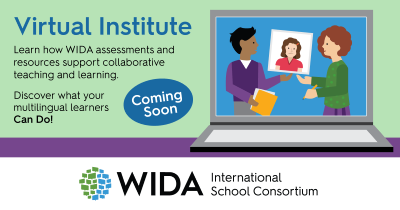 Coming soon: WIDA Virtual Institute
The new WIDA Virtual Institute is an introduction to the WIDA Standards and Assessment System. Much like our face-to-face WIDA Institute this virtual course is a first step in learning how WIDA resources, including the WIDA ELD Standards, 2020 Edition, work together to support multilingual students and their teachers. However, the WIDA Virtual Institute is designed for a virtual platform; participants work through self-paced, interactive modules from the comfort of your own home or classroom!
The Virtual Institute is intended for educators who are new to WIDA, or who are deciding how WIDA assessments and resources can support teaching and learning at their school. It is also a course for experienced teachers to learn about the WIDA ELD Standards, 2020 Edition. All international teachers, administrators or admissions officers are invited to enroll in this introductory eLearning course. If you are ready to explore how WIDA can support your students, sign up to receive more information and a registration link as soon as this new course is available. We anticipate opening registration in December, and the course starting in January.
Additional learning opportunities
WIDA continues to partner with global and regional organizations to provide opportunities to reconnect with former colleagues, meet new friends and expand your personal learning network.
WIDA @Conferences: A list of upcoming events with partner organizations such as SENIA, NESA, TAISI, MTSS and ECIS.
Whether you are looking for an introduction, or a deep dive into advanced topics, WIDA International professional learning opportunities are available.