Voices from the field: August 2020
Voices from the field: August 2020
Facing a new school year can seem overwhelming, especially given the uncertainty that many of us encounter this year. Over the summer, we continued to explore how schools have responded to our emerging learnscape by transforming their classrooms.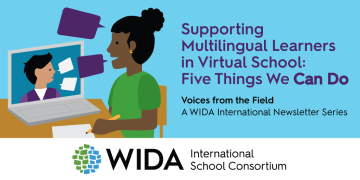 We have engaged educators across the WIDA global network through FlipGrid conversations, professional learning surveys and social media conversations. And finally, we initiated a small Community of Practice comprised of international educators who collectively inquired into the focus question: Given the "probletunities" in the new "coronaverse", how can the WIDA global network support teachers in understanding and using their experience to serve multilingual learners in the coming school year?
Together with these global educators we drafted an asset-based collection of high leverage practices for teaching multilingual learners online: Five Things We Can Do.
Build social-emotional support and maintain community
Engage all teachers to serve all students
Encourage translanguaging
Maximize virtual collaboration
Promote student choice & voice
These topics are intended to help educators identify actions they can take, and will present practical examples of how schools are managing this important transition to new kinds of teaching and learning. In upcoming newsletters, we will share Voices from the Field by focusing on one of these themes each month and sharing examples of how international educators across the WIDA global network are serving multilingual learners and their families.
Thank you to all the educators who contributed and who will continue co-creating these articles!
Alexandra Gustad, American School of Bombay
Lindsay Kuhl, Canadian International School
Matt Hajdun, The Columbus School
Maja Flom, Colegio FDR
Tan Huynh, KIS International School
Jane Russel Velazy, American International School of Budapest
Keisha LaBeach, NCIC Immersion
Chelsea Wilson, Nansha College Preparatory Academy