Voices from the Field: Maximizing Virtual Collaboration
Voices from the Field: Maximizing Virtual Collaboration
In the December Voices from the Field series, international colleagues from Colegio Roosevelt in Peru share their experiences with maximizing virtual collaboration: one of the Five Things We CAN DO to support multilingual learners during remote learning.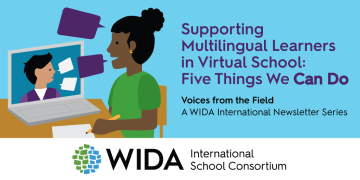 Written by:
Sean Fleming, Middle School EAL teacher (Colegio Roosevelt)
Matthew McDonough, Kindergarten EAL teacher (Colegio Roosevelt)
Esther Bettney, Project Assistant (WIDA International Program)
Take a moment to reflect on when you've collaborated with a colleague during distance learning to successfully meet the needs of your students. What made the collaboration successful? Maybe it was the way in which you approached your colleague or the tools and resources that guided your collaboration. While the pandemic has altered many aspects of our professional lives, one way to face these challenges is through strengthening our collaborative practices.
Why?
In distance learning, we often rely on others to navigate new and uncharted territory as we look to meet our students' various needs. At the early elementary level, distance learning limits the amount of time that teachers and students have for developing oral language skills, the foundation of literacy. In middle school and beyond, students need to be willing to take risks in a new virtual learning environment. Collaboration between content and EAL teachers give us a unique opportunity to use all of our resources to meet the needs of our students.
How?
In a perfect world, there will always be time for teachers to plan, teach, assess and reflect together. In a virtual world, we need to create structures to make sure that collaboration still happens and also understand that we may have less time to collaborate. After teaching all day on Zoom, the last thing we really want to do is to have another Zoom meeting! At Colegio Roosevelt, by applying the four stages of the Collaboration Cycle (read more in the WIDA Collaboration Focus Bulletin), we have found the following structures useful before and after those necessary Zoom calls.
Co-Plan
Due to remote learning, we no longer have informal opportunities to check in with teachers. Therefore, online collaborative documents are a must for co-planning. We use Google Apps, especially Docs and Slides, as a place to gather our co-planning thoughts. Using these tools we can:
As an ongoing, living document, we can regularly return and revise our co-planning documents.
Co-Teach
Using the above documents, co-teachers decide who will lead which part of the lesson. While one teacher is leading the lesson, the other is looking at the students' work where they are demonstrating their learning, such as through shared documents on Google Classroom. The teacher who is not leading the lesson plays a vital role in relationship building. Private comments in the chat such as, "What's your dog's name?" (as the dog comes into the Zoom call) or "Nice haircut!" build community online as we communicate to students that we see them and they are important. Personal interactions that would happen naturally in a classroom, but must be initiated purposefully in the virtual environment. Relationships are key if we are to encourage the thousand questions that occur naturally in a classroom. While braver students will raise their Zoom hands or just unmute themselves to ask a question, most appreciate the private nature of the chat.
Breakout rooms allow co-teachers to make the most of time and skills by dividing into two or more groups, depending on the task. Ahead of time, we decide who will visit, coach, or lead each group. In partner work, for example, I always start with Group #1 and my co-teacher starts with the last group, working our way to the middle and ensuring every group receives a visit.
Co-Assess
The co-teaching model also supports online assessment. In early elementary, one teacher leads the class and the other assesses in the breakout room, allowing for individual attention. In middle and high school, we typically divide the class in two groups. One teacher can provide a checkmark to show shorter assignments are finished, while the other provides feedback and follow-up for longer assignments. We often create rubrics together, to make sure we are in sync for grading. Before using the rubric, we schedule time to review at least two pieces of student work together and we grade offline before coming together online to discuss.
Co-Reflect
We are not so good at co-reflecting, but we are getting better.  Mostly, we are working so hard on what is coming next that we don't give enough time to reflect on what we would like to keep or change for next time.
To increase the odds of reflection happening, we added space on our planning document to record what went well with planning and student work, and changes to increase student learning, based on areas where they struggled this time. Also, sometimes we need to note that certain resources we loved just did not work well for the lesson or we found new resources to use next time, often recommended by students.
Now, with that empty space for reflection staring at us from the planning document, we find that we are more likely to fill it in! This is especially important now that the informal conversations in the hall, at the copier or before and after class, do not happen like they did at school.
Additional Resources
Thank you to Maja Flom, Director of the EAL Program at the Colegio Roosevelt, for her important collaboration with this article.
Read more Voices from the Field: