WIDA All Year Long: March
WIDA All Year Long: March
In August, we introduced Mr. Vega, an English as an additional language (EAL) teacher and one of his multilingual students, Sophia. Find out how Mr. Vega continues to collaborate with colleagues, students and families during March.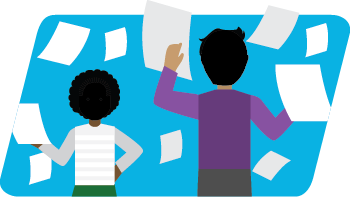 In the spring, Mr. Vega and the K12 EAL team lead a workshop during a whole-school in-service day. Using the WIDA English Language Development Standards Framework, 2020 Edition, the team provides examples of how language is used in academic contexts and what it may look or sound like at different proficiency levels. Afterwards, the 6th grade teachers build on their experiences throughout the year and try new scaffolding techniques they've learned. Mr. Vega and his students, including Sophia, develop academic language portfolios. In locating and including examples from different subjects, students and teachers highlight what students can do.
Visit WIDA All Year Long and join Mr. Vega throughout the school year.  
How are you using WIDA All Year Long? Share with us on Twitter, Facebook and Instagram and use the hashtag #WIDAGlobal.