WIDA MODEL Online is updated!
WIDA MODEL Online is updated!
After about two years of research, test development, reviews, and field testing, WIDA is proud to announce the release of new test content for WIDA MODEL Online.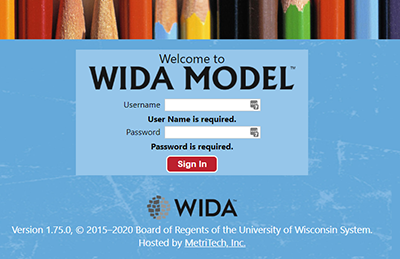 This is the first major enhancement of the assessment since its initial release in 2015. The enhanced assessment offers a significant number of new test items in each of the four language domains: speaking, listening, writing, and reading. Built upon the WIDA English language development standards, WIDA MODEL can be administered at any time during the year to determine the English language proficiency level of students new to a school, to make decisions about student placement for instructional services and support, and to assess students as an interim measure to inform instructional planning and other decisions related to students' education.
Development Details
In 2017, WIDA documented educator requests for enhancements to WIDA MODEL Online assessments. Among their requests, the following items stood out:
Refreshed test content to reduce concerns of excessive exposure
More rigorous test items, especially for the reading and speaking domains
Greater use of international themes and language so that the test content was more relevant to students in international schools
The WIDA assessment team then started building new content to meet those requests. This complex process takes time to ensure the highest levels of quality control. Starting with the initial development of new test items. WIDA collaborated with two reliable vendor partners, the Center for Applied Linguistics (CAL), and MetriTech, the online platform developer and host. The new content then went through several reviews by educators within the U.S. and members of the WIDA International School Consortium to check for any bias, content, or sensitivity issues. Test items that made it through the bias, content, and sensitivity reviews were prepared for extensive field testing.
More than 2,000 students took part in the writing domain field test. Several thousand students also participated in embedded field testing for the speaking, reading, and listening domain items. Both field tests took place concurrently over the span of five months. Next, extensive analysis of the performance for each test item ensured that all content met the WIDA expectations for assessment design. WIDA selected the best performing items and completed another round of quality control on a preview version of new content within the WIDA MODEL Online test platform.
What's new for WIDA MODEL Online?
Includes a significant amount of refreshed content in each of the four language domain tests
Higher proportion of refreshed content for the speaking and writing domains
Content centered on U.S. cultural and historical themes has been reduced
PowerPoint training files for scoring the speaking and writing tests have been enhanced to improve access and file compatibility for the materials that were updated
While there is a significant amount of new test content, there are no changes to the test administrator manual and only one change to test administrator scripts. WIDA MODEL screener test administrator scripts are now separate documents from the WIDA MODEL summative test administrator scripts, because the content of each assessment is now different. Both the screener and summative test administrator scripts can be found in their respective grade-level cluster sections under the WIDA MODEL Test Administration Interface "Training > Training Materials" tab.
We encourage educators to sample the new test content for themselves. Members of the WIDA International School Consortium receive five complimentary WIDA MODEL Online student administrations with your initial membership.  Please contact us at international@wida.us if you have questions about WIDA MODEL or your membership account.