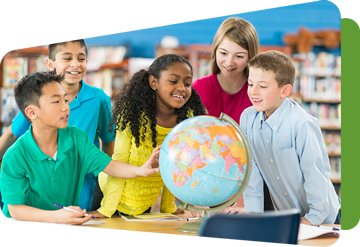 Putting it all together: from release to rollout
The WIDA English Language Development Standards Framework, 2020 Edition serves as a resource for planning and implementing language curriculum, instruction and assessment for multilingual learners.
Educators can use the 2020 Edition to
Promote and guide systematic, explicit, and sustained language development
Support and frame collaboration among educators to plan for content and language integration in culturally and linguistically sustaining ways
Monitor multilingual learners' language growth
Provide standards-referenced feedback to students and families
A practical tool for the times, the 2020 Edition
Represents an evolution of our understanding – in both the theory and practice – about how multilingual learners engage with the curriculum, and how educators can work together to build on the assets of all learners
Updates the existing WIDA ELD Standards Framework to align with academic content standards and disciplinary practices, and to remain current with policy and theory
Continues to break new ground to advance the field of language development in support of content learning for students who are culturally and linguistically diverse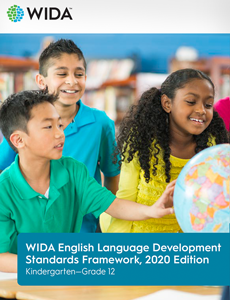 View and download the WIDA English Language Development Standards Framework, 2020 Edition: Kindergarten-Grade 12
Grade-level cluster-specific versions of the 2020 Edition are also available in the Resource Library.
Order printed copies from the
WIDA Store.
New: WIDA ELD Standards Framework, 2020 Digital Explorer
What's new and different in the 2020 Edition
A robust standards framework makes the language of academic content explicit and visible, and provides a coherent approach to language development
Grade-level cluster materials represent the WIDA ELD Standards Framework in action
A sample collaborative planning process for content-language integration offers a jump-off point for curricular conversations
Six grade-level clusters (K, 1, 2-3, 4-5, 6-8, 9-12) and six proficiency levels correspond with those of ACCESS for ELLs Online
Annotated Language Samples illustrate the WIDA ELD Standards Statements, Key Language Uses, and Language Expectations, Functions, and Features in authentic, grade-level texts.
What's changed and what's the same from the 2007 and 2012 editions? See the Appendix E of the 2020 Edition: Comparison Chart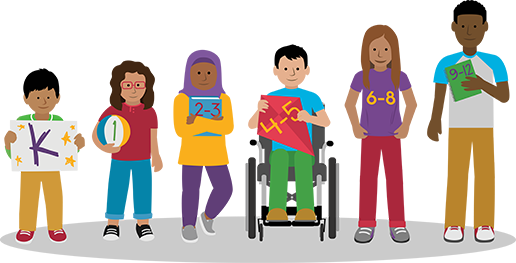 Resources for Implementation
Overview and Communication Resources
Learning Opportunities for Educators
See the ELD Standards Framework Professional Development page for
Self-paced eWorkshops for WIDA Consortium members
Recorded webinars for the public
The Virtual Institute for WIDA International School Consortium members
Focus Bulletins based on topics in the 2020 Edition
WIDA Consortium members/states: refer to your department of education's guidelines for rollout and implementation. Each WIDA member/state determines their own timeline.
WIDA International School Consortium members: refer to independently created timelines and rollout plans developed at your school.
WIDA intends to fully retire the 2012 Amplification of the WIDA English Language Development Standards, Kindergarten-Grade 12. However, we recognize that all member SEAs have different timelines for implementation of the WIDA ELD Standards Framework, 2020 Edition. With that in mind, the 2012 Amplification will remain in the Resource Library so that educators whose SEAs are still using it may access it as needed. The 2007 and 2004 editions are fully retired.