The May 2019 edition of WIDA News includes our Featured Educator, WIDA spring cleaning, an announcement about the Keynote Speakers for the 2019 WIDA Annual Conference, upcoming professional learning opportunities, and much more!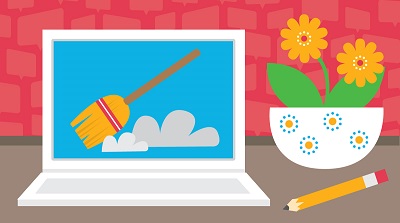 It's Time for Some WIDA Spring Cleaning
Brush away the dust and make sure your WIDA Secure Portal account is active and up to date.
Did you know that you can update your own account information on the WIDA Secure Portal? Just log in, and go to the grey My Account Info box on the right-hand side of your screen. You can update everything except your username. (Hint: contact WIDA Client Services if you've had a name change and would like your username to match!)
What if I've forgotten my password? No problem! Enter your e-mail address in our Password Reset page to have a link sent to your inbox. Still need assistance? Contact the WIDA Client Services Center at (866) 276-7735 or e-mail help@wida.us
New email logins! Beginning June 10, 2019, educators who log in to the WIDA Secure Portal will be prompted to update their username to their work e-mail address. Take this opportunity to make sure you're receiving e-mails from help@wida.us and info@wida.us so you don't miss important news, announcements, or account information.
Why do I need a Secure Portal account? Only users with a WIDA Secure Portal account have access to WIDA's assessment training courses and test materials, state-specific webinars, and other members-only resources. Check out your member/state page to find out how you can get a Secure Portal account.
Meet Elementary Teacher Sinead Mayo from North Carolina
Sinead Mayo works in a large elementary magnet school where about one in five students is an English language learner. She is driven in her pursuit to improve the life outcomes for the students she sees in her classroom. Sinead says, "I meet students where they are and design/plan lessons and tasks to help them move at their own pace toward proficiency. I intentionally build writing and speaking tasks into all lessons..."
Read the complete Featured Educator article
WIDA Annual Conference - Keynote Speakers Announced
We are pleased to announce that headlining this year's WIDA Annual Conference are Dr. Sonia Nieto, Margaret Heritage, and José Olivarez. Don't miss this year's notable lineup – register at the Early-Bird rate today!
WIDA MODEL Online Writing Field Test Takers Needed
WIDA is refreshing some of the content of MODEL Online based on feedback from educators. We are developing new test content and the new items and tasks have been reviewed for content, bias, and sensitivity by educators. The next step is to administer this new test content to students in Grades 1-12 via a field test. We are currently recruiting schools and students to participate in a field test for the new writing tasks.
English Learners in STEM Subjects Webinar
As WIDA and the National Science Teachers Association (NSTA) begin a new joint-program, Rita MacDonald from WIDA and David Crowther from NSTA will be co-presenting at an InterMountain STEM virtual network meeting on the report English Learners in STEM Subjects: Transforming Classrooms, Schools, and Lives. The event takes place at 5:00 pm ET on Wednesday, May 22.
This meeting is part of a National Science Foundation INCLUDES project where we are implementing a collective impact model with six InterMountain states to broaden participation in STEM education. All participating states are WIDA Consortium states. The event is free to members, and membership in InterMountain-STEM is also free. Go to www.napequity.org/imstem to join and register.
ACCESS for ELLs Score Interpretation Resources
Wondering what to do with ACCESS for ELLs scores? Need some assistance in understanding your Individual Student Reports?
WIDA has several resources to support educators as they analyze ACCESS scores, communicate results, collaborate with colleagues, and take action to help EL students further their goals:
View your state/member page to find out when ACCESS scores are available for your state!
Fall Academy Registration Now Open
Registration is now open for the WIDA Fall Academy on Writing with Multilingual Learners in the Elementary Grades. The event takes place in Portland, ME on September 17, 2019. Register now and save!
Last chance to register for Summer Academies:
Visit the U.S.-based Professional Learning page on the WIDA website.
Register Now for Summer WIDA Workshops
Differentiation for Linguistically Diverse Students (1-day)

New Brunswick, NJ | June 25, 2019

Introduction to WIDA Standards (1-day)

Madison, WI | July 15, 2019

WIDA Español: Differentiation for Multilingual Learners (1-day)

Madison, WI | July 17, 2019

Interpreting ACCESS for ELLs Score Reports for Instruction (1-day)

Madison, WI | August 12, 2019

Differentiation for Linguistically Diverse Students ( 2-day)

Madison, WI | August 13-14, 2019

Purposeful Lesson Planning for Language Learners (2-day)

Platteville, WI | August 13-14, 2019