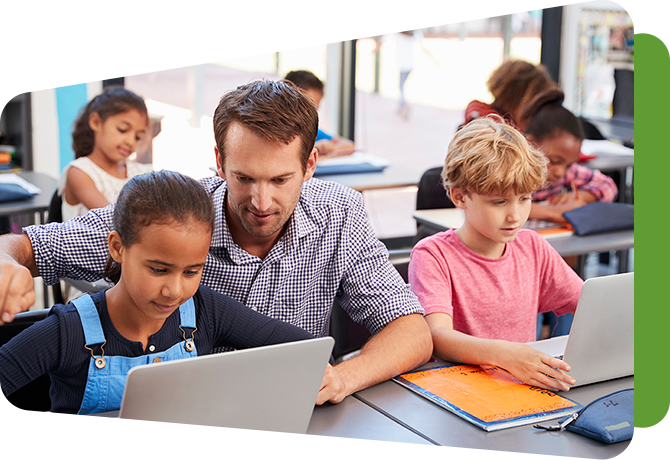 If you are delivering WIDA Alternate ACCESS, please see the Preparing for WIDA Alternate ACCESS page.
Resources designed to help you and your students prepare for ACCESS testing
WIDA provides many training resources to help educators prepare for ACCESS for ELLs.
It is important for your students to understand, in age-appropriate ways, why they are taking this test. They also benefit from participating in conversations about their own language development, education, and their own ideas about how they can perform their best on the test.
Some key information to share with colleagues, students and families:
The test provides information about students' English language abilities in school. Educators use this information to make decisions about students' education.
ACCESS measures what students know and can do in English in the domains of Listening, Reading, Speaking and Writing.
Students do not need to study for the test, but rather, focus on demonstrating their language abilities.
To understand the preparation process and what you'll need to get started, view the Quick Start Guide below.

Preparing for ACCESS Quick Start Guide
1. Review ACCESS testing information specific to your state/territory/agency
Visit your member/state page (see dropdown at the top of the WIDA website) for testing dates and policies, which assessments are used, and contact information for your state and the WIDA Client Services Center.
If you are a first-time test administrator (TA) or district test coordinator (DTC), you will find instructions on how to get an account set up for the WIDA Secure Portal (required training site) and WIDA AMS (test administration platform). You can also find ACCESS Checklists (all the tasks that need to be completed before, during and after testing) on your member/state page.
3. Share information about the test with parents and families
WIDA offers a handout for parents and families that explains ACCESS and what it means for their student's academic progress.
The What Is ACCESS for ELLs handout is available in several languages.
4. Introduce the test to your students about two weeks ahead of testing day
ACCESS for ELLs is not a test students should study for. Instead, students should focus on doing their best to demonstrate their language abilities. Talk to your students about:
testing tools such as highlighters and line guides, and how best to use them
accommodations, if the student has an IEP or 504 plan (include the IEP team)
standardized test conventions including instructions and completing forms correctly
Familiarize students with the kind of content they will encounter on the test and give them a chance to practice the different question types:
Some of the most important things to discuss with students about any test are:
Setting themselves up for success with a can do attitude!
Talking about the importance of a good night's sleep
Eating a good meal or healthy snack before the test (and helping students get the nutrition they need if need be)
Advocating for themselves if they need opportunities to release energy and relax before and after the test