Set high expectations and ensure equity of opportunity for multilingual learners
The WIDA English Language Development (ELD) Standards Framework provides a foundation for curriculum, instruction and assessment for multilingual learners in kindergarten through grade 12. The ELD Standards Framework is centered on equity and fosters the assets, contributions and potential of multilingual learners.
Get the 2020 Edition, grade cluster editions, and supporting materials.
Learn more about the Big Ideas and four components of the framework (Standards Statements, Key Language Uses, Language Expectations and Proficiency Level Descriptors) below.
Big Ideas
Four Big Ideas anchor the standards and are interwoven throughout the framework:
Equity of opportunity and access

This is essential for multilingual learners' preparation for college, career and civic lives.

Integration of content and language

Academic content is the context for language learning, and language is the means for learning academic content.

Collaboration among stakeholders

Stakeholders share responsibility for educating multilingual learners.

Functional approach to language development

This approach helps educators focus on the purposeful use of language.
These Big Ideas support the design of standards-based educational experiences that are student-centered, culturally and linguistically sustaining, and responsive to multilingual learners' strengths and needs.
To explore more about the Big Ideas, see pages 17-20 of the 2020 Edition.
Framework Components
The framework consists of four components, ranging from broad to narrow in scope:
WIDA ELD Standards Statements
Key Language Uses
Language Expectations
Proficiency Level Descriptors
These work together to make a comprehensive picture of language development.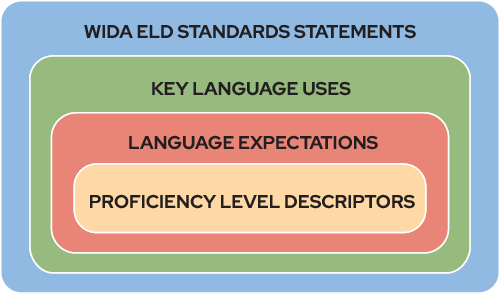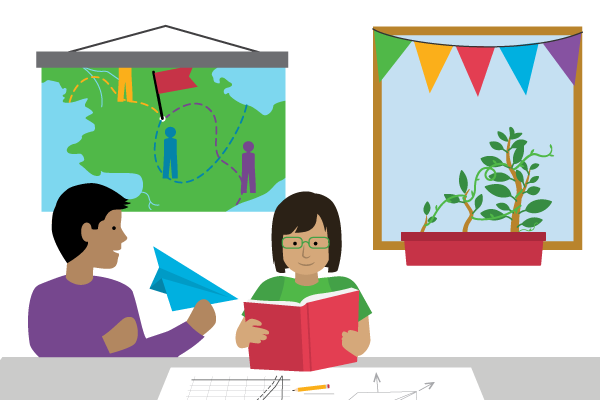 Putting It All Together: Yes You Can!
The 2020 Edition provides teachers with ways to use these components in combination with resources in their school and community environments, to support multilingual learners' linguistic growth in and beyond the classroom.
Foundations of the ELD Standards Framework

This document articulates the foundational belief that every learner brings valuable contributions to everything they do.

These principles exemplify WIDA's overarching foundational beliefs and ever-present Can Do Philosophy – in 14 languages and an illustrated version.

The theoretical foundations of the WIDA ELD Standards Framework can be found in Appendix F of the 2020 Edition.