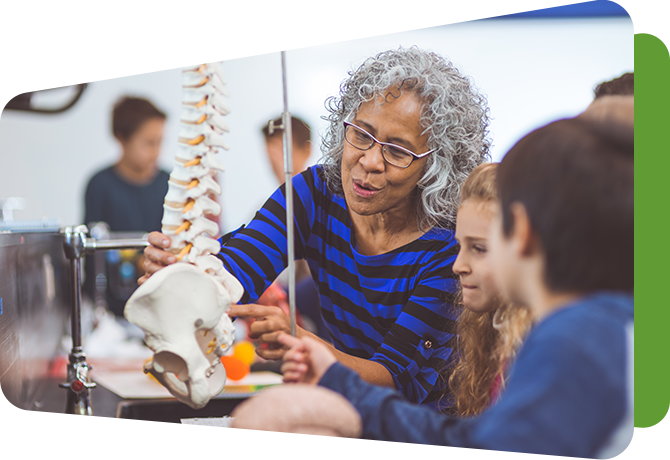 Learn from real classroom examples
WIDA sponsors video contests for educators of multilingual learners to showcase innovative instruction that promotes language development and content learning.
Watch how teachers around the consortium create learning opportunities for students to develop language within academic contexts.
As you reflect on the videos, use the WIDA Video Discussion Questions for some important considerations when working with multilingual learners.
Academic Vocabulary Development
Andy plans engaging instruction that scaffolds learning for the wide range of English proficiency levels in his middle school EL class. He begins by assessing his students and collaborating with other teachers to extend his academic language instruction across subject areas.
Andy bridges student learning by explicitly making connections between their lived experiences and the content being studied. Also, he provides them with multiple meaningful opportunities to use language as they engage with the content.
Submitted by Andy Mizell, 5th-8th grade EL teacher, in collaboration with Nicole Fedele and Kellee Hill at Margaret Allen Middle Prep in Nashville, TN.
Fostering Active Comprehension: Asking and Answering Questions
Shadia encourages her first-grade students to engage in authentic inquiry before reading a text. By asking questions about the topic, students' reading focus is linked to finding answers to their questions. Shadia's students stay engaged by working in pairs.
Submitted by Shadia Salem, a first grade Transitional Arabic Bilingual Teacher at Dorn Elementary in Hickory Hills, IL.
ENL (English as a New Language) High School Students: Encouraging Communication in a New Language
Mindy develops a grade-level, standards-based unit and provides her ninth graders with clear modeling and guided practice using game-type activities for Romeo and Juliet. Mindy also demonstrates working with colleagues to help raise awareness of scaffolding lessons so all learners can be engaged.
Submitted by Mindy Lewis-Hitch, the 9th grade English as a New Language Department Lead Teacher at Ben Davis 9th Grade Center in Wayne Township, IN.