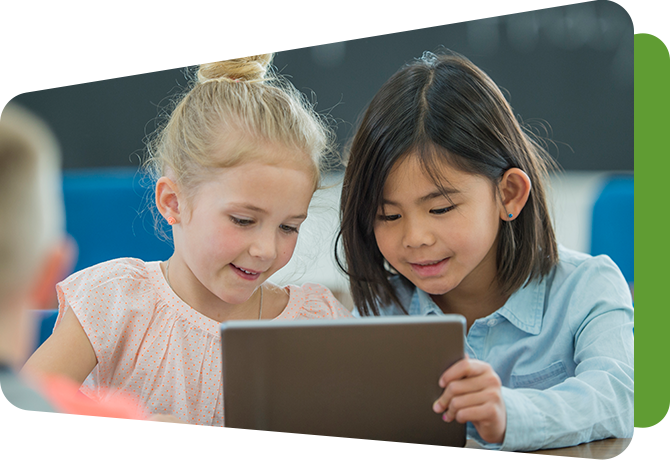 Promoting equitable educational opportunities through research
WIDA believes in promoting equitable educational opportunities and inclusive practices for PreK-12 multilingual children by collaborating in the research and development of innovative and transformative practices, products and services. The projects below represent some of our recent research activities and collaborations.
WIDA researchers have been awarded millions of dollars of funding to investigate innovative ideas and practices that deepen and transform the way we approach the education of multilingual learners.
Projects
Bilingual investments of dual-language immersion program alumni
WIDA researchers Diep Nguyen and Mariana Castro along with Madina Djuraeva (University of Oklahoma) explore the bilingual experience through six dual-language immersion program alumni and share practical recommendations for designing equitable bilingual programs.
 
Indigenous Language Test Development
WIDA has partnered with two school districts in Alaska to create language proficiency assessments for Indigenous languages. WIDA researchers Rosalie Grant and H. Gary Cook provide test development support to the Lower Kuskokwim School District (LKSD) and Juneau School District (JSD). LKSD has rolled out an innovative Yup'ik proficiency test for district students in grades K-6 who are Yugtun speakers and is developing a similar assessment for grades 7-12. Meanwhile JSD is currently developing a Tlingit language test.
 
Language Assessment Research
WIDA has several ongoing assessment-related research projects, which include projects to enhance the quality and psychometric properties of WIDA assessments, such as examining the variables that influence the difficulty of items/tasks or the adaptive engine used for presenting the items. These studies help us understand not only students' performance on the test, but also the interpretation and use of test scores in K-12 educational settings.
Sample reports of recently completed projects can be found in the Resource Library:
Making Science Multilingual
WIDA and the National Science Teaching Association (NSTA) have joined forces to address the persistent disparities in science education for multilingual learners.
Check out the Design Principles for Engaging Multilingual Learners in Three-Dimensional Science.
 
Research on Teacher Learning
WIDA is engaged in several research projects that support and investigate the professional learning of classroom teachers. Jennifer Wilfrid and Daniella Molle are partnering with David Crowther (University of Nevada, Reno) to investigate teachers' use of instructional practices that promote sensemaking in science classrooms. Diep Nguyen collaborated with Kara Viesca and the IMCEE team to study ideologies and practices of content teachers working with multilingual learners.
 
Shedding Light on the Impact of the COVID-19 Pandemic on EL's Educational Outcomes
The April 2023 report on the pandemic's impact from WIDA researchers Glenn Poole and Narek Sahakyan examines English learners' testing, proficiency, and growth during the four most recent academic years based on WIDA's ACCESS for ELLs Online summative assessment, in order to shed light on the impact of the COVID-19 pandemic on multilingual learners' educational outcomes.
 
Unpacking the "Long-term English Learner" (LTEL) Label
This research builds upon earlier LTEL findings and closely examines the intersection of student disabilities and long-term EL status across multiple WIDA states. This study includes comparison of long-term growth trajectories for "active" ELs with and without IEP (Individual Educational Plan) designations across multiple years, cohorts and grades. View the 2021 LTEL Report.
Grants
Project RESPECT

WIDA has launched Project RESPECT with a $2.6 million grant from the U. S. Department of Education. This research project aims to help rural K-8 teachers provide effective and equitable literacy instruction for multilingual learners. Diep Nguyen, director of WIDA Educator Learning, Research, and Practice, is the primary investigator.
Over the next four years, the Project RESPECT team plans to accomplish three goals: 
Design, develop, pilot and revise a hybrid professional learning program that helps teachers in rural districts in Wisconsin.
Increase the quality of literacy and language instruction in a small group of Wisconsin rural districts through teachers' participation in the newly developed, hybrid professional learning program over a two-year period.
Improve selected outcomes related to school climate, multilingual student engagement and English learner academic performance in participating rural districts.
Read the Project RESPECT press release.  
 
Advancing ALTELLA: Alternate Assessment Redesign project

WIDA researchers H. Gary Cook and Laurene Christensen are leading a multi-year, federally funded project to inform development of alternate English language proficiency assessments for English learners with the most significant cognitive disabilities.
Known as Advancing ALTELLA, this project applies lessons learned from research on successful instructional practices, accommodations, and assessment.
Research activities include conducting cognitive labs, classroom observations, technology explorations and psychometric analyses that will inform the (re)development of an up-to-date screener and summative assessment.
The project team is also developing professional learning materials that support the implementation of the new and updated assessments, and will disseminate project findings to state education agencies, national experts, policy makers, educators, families and other interested stakeholders.