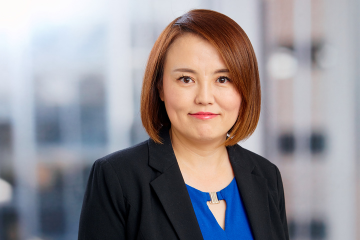 July 11, 2022
FOR IMMEDIATE RELEASE
Contact: Katie Stenz, kstenz@wisc.edu
MADISON, Wis. – WIDA, an educational services organization housed at the University of Wisconsin–Madison's Wisconsin Center for Education Research, is delighted to share that Grace Li is the organization's new chief assessment officer. 
"Grace's expertise in psychometrics, advanced technologies, high-stakes assessment and complex testing systems make her a tremendous addition to WIDA," Tim Boals, WIDA founder and director, said. "She is a passionate visionary who will help WIDA explore the future – making sure our assessment tools are the best they can be for multilingual learners."
In her role as chief assessment officer, Grace leads WIDA's largest team. She provides oversight, leadership and management for the development and delivery of WIDA assessment products and services, like ACCESS for ELLs, a suite of summative English language proficiency assessments, which is used by more than 2 million multilingual learners in 41 states, territories and federal agencies. She also advances research initiatives in the areas of assessment, standards, accountability, technology and evaluation.
"When we began our search for this important role, it was imperative that we find someone with deep technical expertise, bright insight into education assessment and the ability to serve as a thought leader in the field," Tim said. "Grace has such a breadth of experience and leadership in all those areas."
Grace brings nearly 20 years of experience working for the assessment industry. Prior to joining WIDA, she was vice president of test development and psychometrics at PSI Services, a global workforce assessment company. In that role, Grace oversaw PSI's largest credentialing program, as well as all licensure programs. Before that, she managed psychometric services at Pearson VUE, a global testing company. In the early days of her career, Grace taught English at universities and developed English assessments in China. As a researcher, she's contributed to 25 research publications and presentations. Grace received her Ph.D. in measurement and quantitative methods from Michigan State University in 2008 and her master's in statistics in 2005.
Grace replaces Gary Cook, WIDA's senior director of assessment. Gary will remain at WIDA and focus his work on assessment development efforts and policy research.
"All of us at WIDA are thrilled to begin working with Grace," Tim said. "It is clear that she possesses the same amount of passion, drive and Can Do Spirit for serving multilingual learners as her WIDA colleagues. We can't wait to get started!"