WIDA is committed to providing assessments that best measure academic English language proficiency. WIDA recognizes that all students must be assessed in a valid and reliable manner in order to gain meaningful results from WIDA's English language proficiency assessment suite. This includes, to the extent practicable, students with disabilities.
Our Approach
WIDA's approach to assessment is rooted in the understanding that:
English learners (ELs) have diverse learning needs and styles
All ELs are capable of making progress toward English language proficiency
ELs must acquire discipline-specific language practices that enable them to interpret and produce language to effectively collaborate on content-related, grade-appropriate tasks
WIDA provides guidelines for how to best support students taking ACCESS for ELLs through the Accessibility and Accommodations Manual. WIDA developed the manual to help educators understand and use the test administration considerations, universal tools, and accommodations for individual ELs in order to produce valid assessment results.
WIDA guidelines do not replace or amend state specific policies of English language proficiency tests. Please refer to your state's page for details.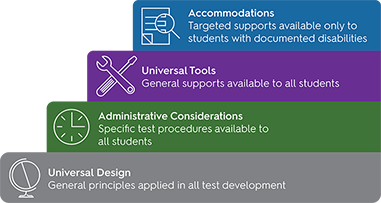 Accessibility and Accommodations Framework
WIDA designed its accessibility and accommodation framework to ensure:
Application of effective linguistic scaffolding and Universal Design principals to the development of test items
Availability of flexible administrative considerations and universal tools for all students
Purposeful design and delivery of accommodations for students with disabilities
Modifications are not allowed on language proficiency testing, as they change what the test measures.

A guide for district and school staff to use as they prepare for and implement ACCESS for ELLs and WIDA Screener

An overview of the principles that influenced the design of the WIDA Accessibility and Accommodations Framework

WIDA provides sample IEP checklists for each of the assessments in the ACCESS for ELLs suite.