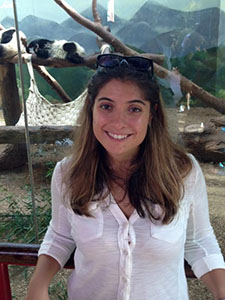 August 3, 2020
Some people come to teaching because it is what they have always wanted to do, and some people come to teaching while their mind wanders in a class about global politics. Cue Claudia Trillo, who, more than a decade later teaches at Harris Elementary School in Duluth, Georgia.
"I thought I knew where my life was going, but something didn't feel right. My best friend asked me to close my eyes and tell her where I pictured myself in 10 years and I could only see a classroom with students," Trillo says. "It was in that moment that I knew my purpose. For someone who was never fully sure of what I wanted, this was a big moment because I never felt so sure in my life."
Besides being able to picture herself in a classroom, Trillo started to see herself in Latina students. She didn't have a Latina teacher until the end of high school and knows how important it is to have teachers who look like you or understand your culture.
"I felt that if students could know my story and see how I succeeded, they could too," Trillo adds.
Trillo has been sharing her story with her students at Harris Elementary for almost nine years. She started out teaching first grade and then transitioned into the role of lead English Language Learner (ELL) teacher, which she's held for the past eight years. She works with students in kindergarten through fifth grade.
"I love so many things about my job, from the students who inspire and remind me of the commitment I make to them, to the relationships I have with parents at my school," Trillo says.
Harris Elementary is just outside of Atlanta, in Gwinnett County School District, one of the largest school districts in Georgia. Of the approximately 900 students who attend Harris, more than 40 percent are ELLs. Students come to Harris from all over the world: Nigeria, Russia, Colombia, Mexico, Venezuela, China, South Korea, Egypt.
Trillo says that her students and families give her perspective.
"We receive many Venezuelan families and something as simple as having the lights on in the classroom was a huge lesson for me," Trillo says. "Students told me they didn't like turning off the lights because in Venezuela they went days and weeks without the lights and they never knew when they would turn back on."
These insights and connections – and relying on techniques like reinforcing English vocabulary in all academic settings and focusing on what students Can Do – help Trillo and her colleagues find success in the classroom.
"I believe that when students feel empowered by vocabulary and are able to make connections to their learning, they feel more successful and are engaged in their learning," Trillo says. "I purposefully introduce vocabulary before a lesson and find opportunities in dialogue for the students and I to use the words, add them to a word wall in the classroom, use songs and games to make them engaging with the younger ELLs and help students make connections to the newly acquired vocabulary through their home lives or with their native language."
Trillo uses the WIDA ELD Standards to help create language objectives and the WIDA Can Do Descriptors to plan activities and create differentiated groups. As a teacher–leader, she says the Can Do Descriptors come in handy as a tool to help guide her colleagues in their planning and instruction.
One of Trillo's strengths is her ability to collaborate with content area teachers, so it's no surprise that she and her colleagues use a shared planning document, meet often to strategize and try to get things done in advance so everyone has more time to work together.
This emphasis on planning, and goal setting, seems to be central to Trillo's teaching and working style.
"Another way that I accelerate language development is by working with students to create goals for their content and language development," Trillo adds. "I've found that my third and fifth graders are pretty competitive; I used the WIDA Lesson Plan: Grades K-5 templates and boy were they excited to create goals for themselves."
Trillo says that visuals help her show students what their scores mean. Each month, Trillo leads small group and individual check-ins so that her students can evaluate their progress in reaching their goals.
"These check-ins truly encouraged students to accelerate their language development and the students like having control of their learning," she says.
Some of Trillo's other recommended tools include observational notes from conferences with students, classroom formative assessments and summative assessments from the district. Plus, she likes Ticket Out the Door, video and audio recordings and writing rubrics. She says that the WIDA Writing Rubrics help her see and understand how students should be writing within their proficiency level.
"I believe that I am able to use these different tools to have a true view of where students are in their language development because they can share student strengths and areas for development," Trillo says. "It is so important to have a variety of tools for assessing ELLs because they can demonstrate their learning through different modes. Some ELLs are stronger readers and can show me more of how to decode or use context clues through a running record, and other students can show their language learning through a class presentation because they are able to discuss and share their understanding of a topic."