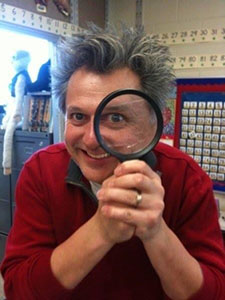 February 5, 2021
This month, Conversations with Tim features a discussion between Tim Boals, WIDA founder and director, Justine Kolb, WIDA assistant director of professional learning, and Melissa Paton, WIDA professional learning specialist. They sat down (virtually, in their home offices) with Merideth Trahan, WIDA chief of staff, to talk about the legacy of their friend and colleague Troy Dassler. This conversation has been lightly edited for clarity and length.
With Merideth moderating, Tim, Justine and Melissa talk about the loss and life of Troy, a beloved WIDA professional learning specialist, magnetic educator, creative spirit and the dearest of friends, who passed away in December.
Merideth: People describe Troy as an amazing, incredible facilitator. For those of us who never attended one of his sessions, can you describe what made him so magical?
Melissa: What Troy did was both an art and a science. He took every great facilitation idea and made it better.
Merideth: Will you share an example?
Melissa: We didn't have a budget for prizes at workshops, so Troy used to give away hotel supplies and he'd say "you win, at no expense to me!" People were like, "oh, I love lotion." Receiving that lotion from Troy was such a great feeling. In my workshops, I used to use an analogy about dancing and learning something new. And when Troy started coming on the road with me, I discovered that he was a really good dancer. We would dance together in front of workshops and people remember that. Doing it together was a collaborative moment and something I really miss.
Tim: He also had this unique ability to connect with each individual person, even though you were in a workshop of 5000 people. It was the way he looked into your eyes. And the sincerity and the genuineness of that connection that he made with every person in the room.
Justine: He was one of the best listeners and he didn't just listen with his ears. He was listening with his eyes and he could see when someone had a struggle or limited thinking. He was always trying to infuse an equity message. He had a method for approaching a person that would gently push them, and he used real examples that he had used with his students.
Merideth: Troy had been out of the classroom for a while. How did he keep his workshops relevant?
Melissa: He never forgot his students and he also had the ability to recognize expertise in educators in the audience. He'd call on them to share and step aside without ego. It's not easy to create that space, but he was masterful at it.
Justine: He valued the teacher voice and allowed educators to teach educators. They walked out of workshops feeling better about their expertise, knowing that it was valued.
Merideth: How did he adapt the content for the audience?
Melissa: During a workshop, Troy would say something like "I'm seeing that people are stuck. What would be a better way to go about doing this?" And then he would learn from that group dynamic. They loved him in New Mexico and Hawaii. Those states have a collective culture and he presented in a collective culture way. For states that are more direct, he'd adapt his presentation style. His ability to adapt is something we need to hold on to and not be afraid to try.
Justine: It reminds me of a time when Troy was presenting to an international audience about student portraits. The group told Troy that student portraits wouldn't work for them because they didn't have an individualistic culture and that identifying classrooms by individual students is an American concept. The group suggested classroom portraits because they identify as a group culture. That was a bit of an Aha! moment for our K-12 consortium facilitators, because we figured that this had to apply to pockets of culture in different areas of our consortium. Troy listened to the group and didn't say, "I have to follow the agenda because this is what we're doing." He adapted and brought it back to our team to think about. He was always pushing us to think a little farther.
I want to share one more thing I learned from Troy. We were doing a workshop together, and it was the first time I was doing the workshop. I was a little nervous. While I was facilitating, someone asked me a question that I struggled to answer. Later, Troy asked me what happened. I tried to explain that, as a trusted facilitator, I felt pressure to know the answer. And he said, "you took on the pressure of having to give the answer, when the best thing to do is open it up and put it out to the group." And he was right. I don't have to be right and know everything. I'm just facilitating a conversation. I never forgot that message and I share it with other facilitators.
Melissa: And that experience led Troy to ask us how to fix it. So, we developed the sweaty palms manual, which has all sorts of examples like yours and how to react in those situations. That was Troy, making lemonade out of lemons.
Merideth: Everyone's going to want a copy of the sweaty palms manual.
Justine: Another great thing about Troy is that he was so brave and excited to try new things. For example, I asked him to help us onboard new facilitators to the science workshop. Next thing I know, Troy built a self-paced module for onboarding to the science workshop. He was expanding his skills at designing and gave us this tool that people can do on their own, but still get together as a group and talk about it.
Melissa: He was always encouraging me to jump, but never pushed me off the cliff. He was always willing to jump with me.
Merideth: If Troy was presenting to a group of pre-service teachers, what are some of the key points he'd share with them about teaching multilingual learners – knowing that these passionate and optimistic educators are entering the field at a tough time?
Melissa: I think he'd highlight multilingual learners' assets and that having another language is an asset. We often think of it as a deficit, because students don't know English. But multilingual learners are just starting with a different language and adding on English. In the end, they are going to be ahead of most adults. New teachers should look at what multilingual learners already have and what they are bringing with them.
Justine: In his workshops, to show the strengths of students, he would display a multilingual learner's writing and have people read it and talk about what was there. And oftentimes, there'd be a group that talked about what wasn't there. But then he would dissect it with them. By the end of the dissection, you saw that this writing was amazing. And that the student was putting forth so many ideas and had an opening and such incredible voice. Even though it wasn't all spelled correctly, there was so much meaning that was being communicated. That seems like such a simple thing to do, but the way he did it, it just pulled the whole room in, and they were rooting for this student by the end. You know that they went back to their students' writing and were looking at it differently.
Tim: Because he exemplified the Can Do spirit, he was able to illustrate to teachers what it really means.
Merideth: I was thinking about Troy with his specialty in STEM and multilingual learning. What is important about the connection Troy forged between STEM and multilingual learning? Do we need to go further in making those connections?
Melissa: I think it's that experiential piece. In workshops, it was important to Troy to not just talk, but to do. In science workshops we explode things. We allow adults to play and arouse that natural curiosity that we sometimes repress. I hope that we maintain that playfulness with adults, because I think it's important to make those discoveries through fun and play. I've watched teachers walk out of those workshops and say, "oh my goodness, I don't allow that enough with my students." I know that they brought that back to their classroom for the benefit of their students.
Justine: They experienced that phenomenon. Troy's big thing was the group experience, which creates conversation, getting your multilingual learners using language, whether it's English or another language. Talking, expressing and hearing others. If you give language learners something interesting to talk about, the language will follow. Troy understood that and brought that to everything. He would show educators, and in the end they knew they could do it, because they saw how it could be done.
Tim: That's the true value of face-to-face training. Getting new information about something from a new perspective. And really radically altering their practice through these powerful examples. That was what Troy was so good at.
Melissa: In the new WIDA ELD Standards Framework facilitated e-workshop, he is leaving us another gift. He presents a summative assessment in this really creative way. The whole thing was Troy's idea and I think it's just beautiful to show. Not only in distance learning, how you can do a summative assessment in a different way, but that summative assessment doesn't have to be horrendous and arduous. It can be fun and playful. That's going to be an enduring legacy that he's left for us. It's one of the last things he did.
Justine: The photo of Troy at the end of the packet shows Troy with crazy hair and his magnifying glass. That's Troy. It's fun. He's examining and making you react and think.
Tim: That makes me think of how he had a connection with everyone, and one time I happened to be telling him about my son, who was entering the science teaching profession. Troy asked if my son would like it if he came to his class and helped him as a new teacher. Troy ended up going to my son's class three times and teaching example lessons. Some of my son's students came up afterward and said they remembered Troy from elementary school, and how he made such a difference in how they thought about science. Troy's students and the educators he worked with were so impacted by his work that they remembered him years after and never forgot him. Troy has given his skill and passion to the WIDA family. We will never forget him.
About Conversations with Tim
Conversations with Tim, WIDA Founder and Director is a monthly WIDA news article that features a conversation between WIDA Founder and Director Tim Boals and a colleague or two in the field of multilingual learner education. Together, they discuss the important innovation, research and collaboration taking place today.