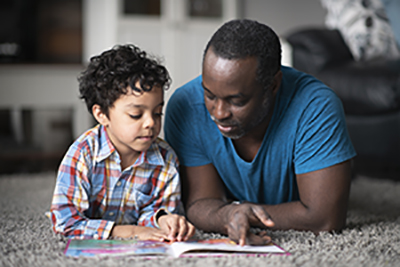 June 1, 2020
What is a Social Story?
Social Stories were created by Carol Gray, a former teacher for children with autism spectrum disorder. Gray explains on her website that Social Stories are a learning strategy and tool that is used to support the exchange of information between children, parents and professionals in a safe and meaningful way.
Social Stories can be used by ;any child who may have difficulty understanding social situations. The Early Childhood Learning & Knowledge Center says that Social Stories can be used to communicate with a child about a situation, concept or social skill, and is created individually for that child. Using Social Stories can help children build skills for understanding varying situations and so that they may participate in a variety of environments and activities.
How can Social Stories help children understand situations like COVID-19?
In this time of COVID-19, children are experiencing many new and unfamiliar situations. Social Stories can be a crucial tool in helping children understand these situations.
Social Stories can help explain aspects of living in a COVID-19 world: proper handwashing, what is social distancing, why school is online and how school could be different after quarantine. It is important to note that a Social Story can be created by parents, caregivers, teachers or any other professional that works with a child. This allows for ultimate creativity and personalization for each child, and they can be written in any language.
Tips and Resources*
To personalize a Social Story, add images of a child's favorite character or item to help motivate and engage them with the story. For example, if your child loves Superman, attach little images of Superman in the corners of the page to keep them engaged.

 

Another way to personalize the Social Story is to put pictures of that child into the story itself. An example of this is showing a picture of a child washing their own hands to help motivate them and to encourage proper hygiene behavior.

 

Easterseals in Chicago, a non-profit health organization, recently published a Social Story on how to explain the coronavirus.

 

The Head Start Early Childhood Learning and Resource Center has these additional examples of Social Stories centered on everyday activities.

 
*WIDA does not advocate for or endorse any of these technologies for instruction. Schools, districts and states are responsible for making choices about appropriate and applicable technologies and products.
About the Author
Desiree Taylor is a project assistant for the Advancing Alternate English Language Learning Assessment (ALTELLA) project. She assists in research work focused on English learners with significant cognitive disabilities and alternate English language proficiency assessment. Desiree is a current graduate student and future doctoral candidate in the Occupational Therapy Program at the University of Wisconsin-Madison.