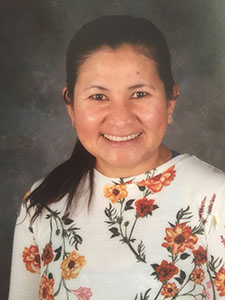 July 7, 2020
Building confidence and daring students to dream big are classroom credos for Karen Weigle, an English Language Learner (ELL) teacher and bilingual coordinator.
"I love that I can be part of my students' daily lives," Weigle said. "Their ideas and stories can build a future. I always tell them: never stop dreaming because dreams can come true."
Weigle is no stranger to thinking big — especially about her career. She was born and raised in Honduras, went to college in Costa Rica and Honduras, and then worked as an engineer at Fruit of the Loom for more than six years. It wasn't until she moved to the U.S. and had her own children that she decided to go back to school and become a teacher. Even now, she's working on a master's in school counseling.
"Education seemed like the right choice not only after I had my own kids, but because I believe that education can give knowledge of the world," Weigle added. "It lets the students build opinions and different points of view in life."
Weigle teaches students in grades K-5 at Turquoise Trail Charter School in Santa Fe, New Mexico. She's been at Turquoise Trail for seven of her nine years of teaching.
At Turquoise Trail, 71 percent of students are ELLs. Ten different languages are spoken — with Spanish and Keres (a language spoken by the Keres Pueblo people) being the top two. Students receive both bilingual pull-out and English-language support services.
As a confidence creator, Weigle is a proponent of the WIDA Can Do Philosophy.
"The Can Do Descriptors are used daily in my class," Weigle said. "I let my students know that mistakes are part of learning and I try to make sure they feel confident in who they are."
So much of Weigle's positivity is steeped in her belief that bilingualism is not only an asset to her community, but an opportunity provider.
"Many parents drive far from their surrounding areas because they trust our educators so much," Weigle pointed out. "Parents are very supportive, and we educators love to have diversity and to be linguistically responsive in our community. We project who we are: a school rich in culture and opportunities for all."
She says that when it comes to facilitating native language learning, games and hands-on activities are ways to keep students engaged and excited.
"I help students accelerate their language and academic needs by adding a lot of reading in Spanish," she added. "I believe if the students have a foundation in their native language they will be successful in the future."
To help students track their language growth in their second language, Weigle helps them build a portfolio so they can chart their progress throughout the school year.
"I like to use formative assessments because it is important to know how much my students are learning by each quarter," Weigle said. "I even track their reactions at the end of each lesson. I ask students if they enjoyed the lesson by having them fill in a form with a happy, sad or not sure face."
On top of tracking progress, Weigle collaborates with her colleagues around the school district to ensure that English learners are being supported in content classrooms. She uses the WIDA English Language Development Standards as a means of encouraging those teachers to implement language instruction that's tied to building academic language.
"If a student's language development is nurtured in other classrooms, and that student has the opportunity to engage with peers, then that student will be more open to participate in class," Weigle said.
And once those students are participating in class, as Weigle hopes, they probably possess a newfound confidence and are ready to dream big.