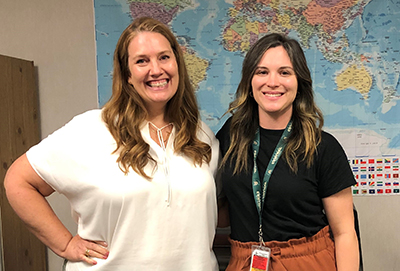 September 8, 2021
This month, we feature two educators — Jenn Henderson and Jill Kraft, in a question-and-answer format. Not only do we get to know Jenn and Jill, who are instructional coaches at Aurora Central High School in Aurora, Colorado, but we'll also learn about their 2021 WIDA eConference session that's set to take place on October 14 at 11:30 a.m. central time.
Note: The following content has been lightly edited for clarity and length.
WIDA: Tell us about you. Talk about your background and why you chose to pursue a career in education. What do you enjoy doing in your free time?
Jenn: I've always wanted to be an educator. I got half my science credits in high school by going next door to the elementary school and teaching science. I attended the University of Wyoming, majoring in elementary education with an emphasis in multicultural education. I loved spending time with kids, from joining Big Brothers/Big Sisters, to working at a local crisis center that supported displaced youth. I began my teaching career here in Aurora at the elementary level and quickly realized I needed to learn more about language learners if I was going to be an effective educator. I took advantage of a district program that paid for me to get my master's degree in linguistically diverse education.
In my free time ... I love to travel with my husband, both to faraway places and local road trips! I enjoy hiking and reading, and spending time with friends and family.
Jill: I am originally from Peekskill, New York, a suburb outside New York City. I went to Colorado State University, where I majored in history and international studies. I started my career in education nine years ago when I spent the academic year teaching English to students in France. When I returned to the U.S., I took a hiatus from teaching to work in hospitality corporate sales in New York City. After reflecting on my experience in France, I decided that teaching English and working with students was a passion of mine, so I began working on my master's degree in TESOL. After completing my degree, I took a position with the New York City Department of Education at a high school specifically designed for newcomers. It was here that I built my values and beliefs around English Language Development (ELD) education and multilingual learners, as all students were newly arrived immigrants and refugees that learned English through interdisciplinary curriculum and a functional approach to language development. After a life move to Denver, I began teaching at Aurora Central High School.
In my free time ... I enjoy spending quality time with my family, which includes my partner, Sean, and our 17-month-old son, Kieran. We love to explore all Colorado has to offer — hiking, skiing, breweries. Another passion is travel, and we have been lucky enough to visit many places around the world (pre-baby, pre-COVID!). I love having the opportunity to be outside my comfort zone in a new place, and experience the people, language and culture of somewhere new. Some favorite destinations have been Morocco, Israel and Croatia. I also love sports and I am currently the commissioner of my fantasy football league for the fifth year in a row.
WIDA: Tell us about where you work and your position.
Jill: I am the Culturally and Linguistically Diverse Education (CLDE) instructional coach and ELD teacher at Aurora Central High School (Central). In this role, I coach both content and ELD teachers on best instructional strategies, with a specific lens on our multilingual learner students. We are unique at Central; in 2020, we started a newcomer house program where we have a dedicated team of content and language teachers who serve our earliest English learners. My role is to support teachers in our newcomer program with professional learning on language and content integration, and to collaborate with our coaches on the needs of our multilingual learners in our entire school. Plus, we intake our newly arrived students: we determine scheduling, connect them to resources and ensure a welcoming environment. I also teach ELD and serve as a lab classroom for other colleagues across all content and grade levels.
Jenn: I am one of the CLDE instructional coaches at Central. In this role, I coach both content and ELD teachers on best instructional strategies, with a specific lens on our multilingual learner students. Central has a high population of language learners, so one of my focus areas is to support content and elective classes with differentiation and scaffolding strategies for all, including students who may be proficient with social English. I also teach a sheltered English class where I specifically support students with reaching grade-level literacy standards.
WIDA: How long have each of you been in the education field? How long have each of you been instructional coaches?
Jenn: Last year was my 25th year in education — all in the same district. I began coaching about 18 years ago and have moved between being both a CLDE and literacy coach.
Jill: This will be my ninth year in ELD education. This will be my third year as an instructional coach.
WIDA: Describe a "typical" day as an instructional coach.
Jill: The best part of our job is that each day varies! Most days consist of teaching, observations, coaching conversations, planning professional learning, completing intake of any new students, supporting our Professional Learning Communities (PLCs) in their Data Driven Instruction (DDI) protocols and collaborating with Jenn.
Jenn: A typical day usually begins with touching base with Jill to make sure we are on the same page and meeting all of the various roles necessary to support both our students and staff. We begin with checking our enrollment to support the correct placement of new students and schedule assessments where necessary. Finding out about and getting to know our new students is one of my favorite parts of this job! I will observe 1–2 people each day and have 1–2 coaching debriefs from previous observations. There is probably also some planning time, both for my own class and professional development that the coaching team is implementing. Finally, I teach a sheltered English class and support a few content PLCs in DDI.
WIDA: Which aspects of your job do you enjoy?
Jenn: Pretty much all of it! I am so grateful to work in a school that values coaching and has created an experienced and talented coaching team. I also love getting to know new students and making them feel welcome and safe. I love teaching my own class. I think it's an important aspect of coaching to be able to try on new strategies and never become too removed from the classroom.
Jill: I have found that I really enjoy building the capacity of the teachers I work with. Working with content teachers that are new to teaching language can be daunting, but I am so grateful to work with colleagues that are dedicated to developing our students' language growth. Many times, in secondary education, language can be an afterthought. However, we have been working hard together as a team to plan, teach and assess with language development in mind first. In order to build up this commitment, there must be trust and a strong relationship. I really find joy in building these relationships with my colleagues, which can allow for more vulnerable and open discussions where the focus is on the achievement of our students.
WIDA: Describe your school and district. Tell us about its location, size and the composition of the student body. What do language services look like in your school?
Jenn and Jill: Aurora Public Schools (APS) has just over 38,000 students. There are over 160 languages spoken in APS, where 42% of our students are second language learners, with 77.8% of them speaking Spanish. At Central, we serve around 1,800–2,000 students. Approximately 900 students are multilingual learners. At Central, we have our newcomer house program, which aims to support our ELD 1 and 2 students in both content and language integration. We also offer dedicated ELD classes to our multilingual learners outside the newcomer house, and sheltered English.
WIDA: Let's talk about the WIDA ELD Standards Framework, 2020 Edition. How do you suggest educators incorporate the 2020 Edition into their instruction? As you explore the 2020 Edition, what is your biggest takeaway?
Jenn: My biggest takeaway from the 2020 Edition is that all learning requires a certain amount and specific type of language in order to both comprehend and express the content. As educators, we need to identify that language and plan for explicit instruction around that language. This helps us to create an equitable platform for all students to access the content and meet the grade-level standards.
Jill: My biggest takeaway from the 2020 Edition is that learning language is not a prerequisite for being a learner. All multilingual learners are capable of learning language and content together, and the need for this integration is crucial for student agency and academic growth. This integration is key for equity in our schools because as educators we serve to see and support our students achieve and grow in meaningful, engaging instruction. Viewing multilingualism as a strength in our classrooms is another facet of the 2020 Edition that stands out as a pillar of multilingual learner education.
WIDA: As you think about your colleagues around the world, is there any advice/practical tips you would give them on how to create and deliver stellar professional learning?
Jill: I think knowing who is in front of you is key to delivering stellar professional learning. This is twofold: knowing your students and knowing your teachers. Building these relationships is so important when providing professional learning because it creates a space where learners can take risks and really develop their skills.
Jenn: My biggest tip for professional development is to remember that you are often presenting to educated, knowledgeable people. Just like we want to value each of our students and what they bring to the table, we need to do the same for adults. This means that I often include an "exploration/learning" time in my trainings — a time where I trust the participants to explore the content and begin to form their own understandings and expertise. I also like to allow plenty of time to share, discuss and reflect.
WIDA: Tell us about your 2021 WIDA eConference session, "Mapping the Path to Implementation." What can attendees expect to learn?
Jenn and Jill: Attendees can expect to learn the process for planning and facilitating professional learning centered around the Key Language Uses identified in the 2020 Edition. The process includes setting the stage, exploration and the work that learners will engage with, as well as authentic results from a content teacher.
If you're registered for the WIDA eConference (the event is already sold out), don't miss Jenn and Jill's session on October 14 at 11:30 a.m. central time. You may also join the waitlist for this event on the 2021 WIDA eConference website.