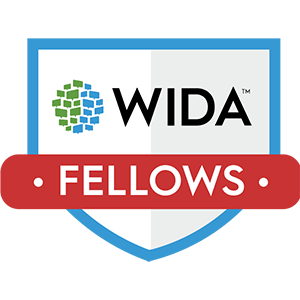 July 30, 2020
WIDA celebrates a successful first year of the WIDA Fellows program and welcomes new and returning WIDA Fellows for 2020-2021. The program, launched in 2019, brings expert teachers and WIDA professional learning specialists together in a collaborative effort to enhance WIDA products and services.
"We appreciate these expert educators as they support our professional development creation with their firsthand knowledge and creative ideas," said Ngoc-Diep Nguyen, director of WIDA Professional Learning. "We are thrilled to continue the program and have 10 more incredible educators joining us this academic year."
Welcome to new 2020-2021 WIDA Fellows:
Carol Pierobon Hofer (English as a New Language Teacher), Indianapolis, IN
Cassandra Bell (ELL Specialist), East Boston, MA
Christina Livingstone (ESL Teacher), Durham, NC
Cinthya Díaz (Bilingual Resource Teacher), Madison, WI
Hannah Turner (English for Speakers of Other Languages & World Languages Content Specialist), Silver Spring, MD
Jocelyn Lee (Director of Language Acquisition), Boston, MA
Maggie Gavello (Math ESOL Teacher), Winchester, VA
Naseem Alibhai (Bilingual Resource Teacher), Schaumburg, IL
Suzy McIntyre (Multilingual Coordinator and Teacher), St. Cloud, MN
Vilanha Turner (English Language Learner Teacher), Andover, MA
From participating in online professional learning communities and book studies, to sharing classroom practices in WIDA training videos, WIDA Fellows leverage their expertise to provide guidance in the development of WIDA professional learning.
"The WIDA Fellows program allows for meaningful connection between educators and professional learning development. All participants gain insight and support through sharing the challenges and the successes in the classroom. The input from the WIDA Fellows helps us develop better support for educators throughout the consortium," Nguyen added
Welcome back to our returning WIDA Fellows from 2019-2020:
Andrea Scott (ELD Teacher), Littleton, CO
Cassandra Meyer (English/Language Arts Teacher), Madison, WI
Carmen Barrios (EL Teacher), Naperville, IL
Catriona Moore (ELD Teacher), Durham, NC
Ceci Estes (English as a New Language Coordinator), Spearfish, SD
Demetrica May (ESOL Teacher/Coordinator), Phenix, AL
Dennise Torres (Bilingual Reading Specialist/Coach), Naperville, IL
Lisa Alfonso Hoffman (Dual Language Immersion Teacher), Madison, WI
Mirvat Habhab (ELD Specialist), Dearborn, MI
Nicole Ponti (Executive Director of English Leaner Instruction and Equity), Manchester, NH
Sonya Bertini (Special Education/ESL/Bilingual), Vineland, NJ
Tiffany Gordon (ELD Specialist), Highlands Ranch, CO
Interested in learning more? Please visit the WIDA Fellows webpage for more information.