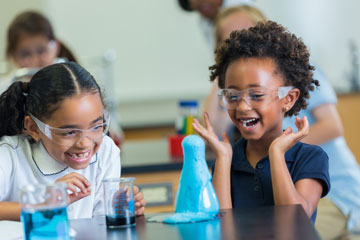 Making Science Multilingual Releases Working Paper to Support Multilingual Learners in Science Learning
Making Science Multilingual, a joint program with WIDA and the National Science Teaching Association (NSTA), has released a working paper titled Design Principles for Engaging Multilingual Learners in Three-Dimensional Science. The principles outlined in the paper will guide educator resource development and support the inclusion of multilingual learners in rigorous science learning.
Join us in Denver!
Have you heard? This year's WIDA Annual Conference will take place October 26-29 in Denver! 
Why Denver? The city boasts 300 days of annual sunshine, natural wonders, a thriving arts scene, and plenty of innovative and acclaimed restaurants. Whether you visit regularly or have never been, the Mile High City has something for everyone. It's time to get excited and begin planning your trip to Denver!
Here are some great resources from Denver's Convention and Visitor's Bureau to help you get started:
Visit the 2020 WIDA Annual Conference website to learn more.
Meet EL teachers Jenna, Kelly, and Shelley from Wisconsin
This month, WIDA features three exceptional educators who worked together to change their school's climate and culture around language testing. Kelly Ebbesen, Jenna Putz and Shelley Sorenson banded together to help their nearly 600 ELL students who speak five languages feel empowered by what they Can Do when it comes to preparing for and taking ACCESS for ELLs.
Complete a nomination form to honor an exceptional colleague.
What is the WIDA School Improvement System (WIDA SIS)?
To support the growing, diverse English Learner (EL) student population, school and district leaders need tools and resources that provide targeted data to help enhance teaching and learning for ALL students. Enter the WIDA School Improvement System (WIDA SIS). This video provides a short introduction to WIDA SIS and how the program is designed to support school improvement and professional development. Watch this video to learn more about how the WIDA School Improvement System can support your work. 
Stay Connected with #WIDA
Follow WIDA on Twitter and Facebook to stay connected with the WIDA community! WIDA posts include teacher resources, relevant articles and WIDA events.
A few "greatest hits" on WIDA social channels for 2020 include: 
Stay connected by following @WIDAConsortium on Twitter and @WIDAatWCER on Facebook.
Explore Educator Resources in the WIDA Store
Check out our WIDA research-based resources and assessments to support English and Spanish language learners from their early years through high school.
Resources include:
WIDA MODEL Online and Paper assessments — for monitoring growth, gathering language data points or as an interim test. 
WIDA Standards and Can Do resources in various formats — to support formative instruction with a language lens.
WIDA Early Years and WIDA Español language development resources — for educators to enhance student success.
Learn more about the resources available at the WIDA Store!