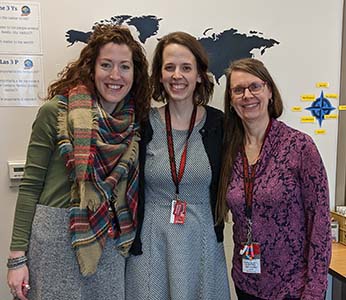 Changing a school's climate and culture around language testing is not an easy feat. But three ELL teachers in Arcadia, Wisconsin, were up to the task.
Kelly Ebbesen, Jenna Putz and Shelley Sorenson banded together to help their nearly 600 ELL students who speak five different languages feel empowered by what they Can Do when it comes to preparing for and taking ACCESS for ELLs.
"I find one of the best strategies is 'I do, we do, you do,'" Ebbesen said. "I find I get much better results when students not only hear my instruction but also see me demonstrate what I want them to do."
Ebbesen, Putz and Sorenson all believe that establishing and maintaining the student-teacher connection is what helps to power the WIDA Can Do Philosophy. With all three educators promoting these connections in their classrooms and beyond, students in Arcadia are part of the Ebbesen, Putz, Sorenson approach throughout their entire school experience. Sorenson teaches at the elementary school, Putz at the middle school and Ebbesen at the high school.
"I encourage students by making connections with them, reassuring them and believing in them," Sorenson said. "When a student is struggling, I consult with other teachers and seek out methods, techniques and strategies to help them get past their plateaus."
Putz emphasizes the importance of connecting content to a student's life. "When possible, I pair learning with an experience or a hands-on activity to increase engagement," Putz added. "These are powerful ways for my students to build schema and make connections while accessing content learning."
All three educators incorporated these concepts into their work to change their school climates around language testing. Before Ebbesen, Putz and Sorenson started their project, students — especially older students — weren't sure why they had to take ACCESS. Among colleagues there was also a lack of understanding about ACCESS, its purpose and the importance of the test. And how test data could inform content teacher instruction.
To allay the issues with ACCESS testing, the educators presented at staff meetings to help their colleagues understand ACCESS and the need for student availability during testing. They created and hung informational (with an air toward inspirational) posters around the school and wrote encouraging notes to their students. All of which help shift mindsets around Arcadia.
"There is a saying a teacher I deeply respect once told me, which is 'there is a right and a wrong way to teach, and there is a loving way to teach — how will you teach today?'" Ebbesen said. "I choose the loving way. Our students have experienced so much trauma and are experiencing extreme cultural, emotional, physical and mental changes. They must know they are valued and loved before standards are grasped."
Learn more about the educators
Kelly Ebbesen is an ESL teacher at Arcadia High School and works primarily with students who are new to the country. Ebbesen credits her time volunteering, in college, with Big Brothers Big Sisters and her love of learning Spanish, traveling and bridging the gap between cultures, with her desire to change her degree from elementary education to TESOL. This is Ebbesen's ninth year of teaching.
Jenna Putz teaches ESL and social studies at Arcadia Middle School. Putz got the ELL teaching bug while she was a high school student in Arcadia. As she and her English learner peers studied in college, Putz continued to hone her teaching skills by proofreading their essays. This is Putz's fifth year at Arcadia.
Shelley Sorenson is an ESL guided reading press-in teacher and EL District Coordinator. Sorenson teaches students in Grades K-3. She has always enjoyed working with and being with children and observing their enthusiasm for life. This is Sorenson's 14th year of teaching.
Pictured above from left: Jenna Putz, Kelly Ebbesen, Shelley Sorenson