Everything you've ever wanted to know: ACCESS for ELLs 2023-24
Everything you've ever wanted to know: ACCESS for ELLs 2023-24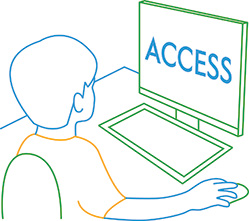 November 6, 2023
Are you new to ACCESS for ELLs? Have you administered an ACCESS test before but can't remember where to find things like training, test prep and test materials? Look no further than this brief reference to all things ACCESS! Pay special attention to the "A word from WIDA" sections for WIDA advice.
ACCESS member/state guidelines
Head over to your member/state page (use the dropdown menu at the top of this website) to find testing dates and information, instructions for setting up a WIDA Secure Portal or WIDA AMS account, and contact information for your state education agency.
A word from WIDA: Your state education agency determines which WIDA assessments you use and sets specific policies on how to use those assessments. Your member/state page is the go-to place for this information.
ACCESS training
Find ACCESS training courses in the WIDA Secure Portal. Once you're in the portal, go to Assessment Training and use "Filter by" to narrow your search. Then, find your training course and select Course Details. From there, you can enroll in the course and view and download related resources. Go to My Certifications to find your recent course certifications.
A word from WIDA: Three assessment training courses have been completely redesigned for 2023-24! All WIDA Alternate ACCESS test administrators need to complete their certification this year for the redesigned course. Check your member/state page to find out whether you need to recertify on any other training courses. Read What to know: WIDA assessments in 2023-24 school year for more details.
ACCESS test preparation for students
Find test preparation resources for ACCESS Online and ACCESS Paper on the ACCESS Test Practice and Sample Items page. On the page, you'll find things like sample items for ACCESS Online, ACCESS Paper and the ACCESS braille accommodation, as well as resources to help prepare students for testing with test demos and test practice items.
A word from WIDA: Before your students take ACCESS Online, make sure you and your students are familiar with the new look and feel of the DRC INSIGHT Secure Student Browser. Review the resources on the ACCESS Test Practice and Sample Items webpage to ensure that students are ready to show all that they can do on the assessment. Learn more by watching DRC Technical Enhancements for 2023-2024, a recorded webinar in the WIDA Secure Portal.
ACCESS family engagement info
Find resources that help explain things like ELL status and language testing on the Family Engagement page. Download and print these family-friendly documents and share them with the people who support your multilingual students.
A word from WIDA: We have a brand-new flyer for families! What is WIDA Alternate ACCESS, which is available in multiple languages, helps families understand the assessment and why their student is taking it. Find the What is WIDA Alternate ACCESS? flyer on the Family Engagement page.
ACCESS help
For general ACCESS for ELLs questions, you'll want to contact the WIDA Client Services Center. Our fabulous team of experts (many of whom are former teachers) are available to take your call or email about ACCESS for ELLs. Head over to the Contact Us page to get in touch with a WIDA expert.
For questions about the WIDA Assessment Management System (the web-based interface used to manage ACCESS for ELLs student and test registration information) or things like materials ordering and ACCESS for ELLs Online technical issues, you'll want to contact Data Recognition Corporation (DRC). Head over to the Contact Us page to find contact information for DRC.
A word from WIDA: Want to tackle your question on your own? You can! There is most likely a Q&A webinar on a topic that answers your question. Go to the Webinars page in the WIDA Secure Portal for a list of upcoming and recorded webinars. We've got webinars on everything from managing students in WIDA AMS to interpreting score reports.
A bonus word from WIDA: Help us make our assessments the best they can be by signing up to participate in an ACCESS for ELLs event! We value the fresh eyes, unique perspectives and range of experiences that you and your colleagues bring to test items, and we revise test items based on this feedback. If you would like to contribute to WIDA test development work, please visit our Building a WIDA Assessment page to learn more and apply.