Multilingualism is a superpower: 10 years of the WIDA Annual Conference
Multilingualism is a superpower: 10 years of the WIDA Annual Conference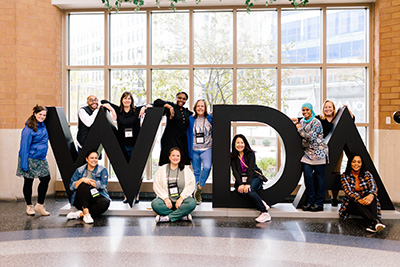 October 26, 2023
The WIDA Annual Conference is always a special time because it's a conference by teachers, for teachers, but this year, it was extra special. It was the 10th WIDA Annual Conference and WIDA's 20th birthday. More than 1,300 people joined us in Milwaukee to celebrate.
From the very first moments of #WIDA2023, the energy was palpable. Educators were excited—they were hugging their friends and colleagues, lining up to take photos standing in as the "I" in the massive sign spelling WIDA, and abuzz about the sessions they'd be going to or presenting at in the coming days.
ICYMI (in case you missed it) or just want to relive the experience, here are some of the highlights from the homecoming in Milwaukee.
Shereen Marisol Meraji delivers a deeply personal keynote address on the complexity of multilingualism and family
Shereen Marisol Meraji, journalist, educator and founding co-host of NPR's "Code Switch" podcast, kicked off the first day with an inspiring speech. She told personal stories about her family, from her Puerto Rican grandfather's difficult and complicated relationship with the United States, to her father's repression of his Iranian culture in order to blend in, to her aunt Wanda's work in multilingual education.
"My aunt always said that multilingualism is a superpower," Shereen said.
But she also spoke about the complexity of that superpower and how it intersects with family dynamics, especially immigrant family dynamics.
Her late grandfather was from Puerto Rico and immigrated to the United States. Toward the end of his life, Shereen wanted to sit with him and record his voice and his story. While he was multilingual and could speak both English and Spanish, toward the end of his life he spoke mostly in Spanish, his heritage language.
"He no longer enjoyed spending the little energy he had speaking in English, but he did it for me for that one interview because I've always been incredibly ashamed of my broken Spanish," she said.
It was one of many examples Shereen would go on to give about the power and complexity of heritage language.
Thank you @RadioMirage for sharing your family's stories. A true testament to shifting the paradigm in viewing multilingualism as an asset. The preservation of your family's history in recordings & your work on @NPRCodeSwitch & @NPRLifeKit are truly inspiring 💛✨ #WIDA2023 pic.twitter.com/2hsWan3CSL

— madison leech (@leech_the_teach) October 18, 2023
Her father immigrated to the United States from Iran in the late 1960s. But growing up, Shereen didn't learn much about his life there, the culture or the language. She'd sometimes push him to tell her stories or speak in Farsi, but he would refuse. It seemed that he wanted nothing to do with his past. It wasn't until she was older that she learned about the difficulty her father had coming to the United States during a time of anti-Iranian sentiment. Shereen learned that her father stopped speaking his heritage language and stopping celebrating his culture, all as a way to blend in and survive. But his heritage language was precious to him. When he was in the hospital fighting Parkinson's, Farsi was what got through to him.
"The only thing that got any reaction from him was when his sisters would call and speak to him in Farsi," Shereen said.
Her story served as a reminder of the complexity of multilingualism. She also showed how parts of her story are universal, like the desire to know her heritage languages. She shared snippets from audio stories and podcasts she's made. One of them, "How to learn a heritage language," is one of the most popular episodes ever made from NPR's series Life Kit.
"It's never too late to learn [your heritage language,]" Shereen explained.
Shereen's deeply personal address kicked off the conference with a reminder of the importance of the work that attendees do every day by supporting, encouraging and empowering multilingual learners.
"The work you do is essential," Shereen said.
Celebrating 20 years of WIDA and 10 years of the WIDA Annual Conference
This year's WIDA Annual Conference was particularly special because we celebrated two anniversaries. It's WIDA's 20th birthday! Way back in 2003 WIDA was born and has since grown into the influential organization it is today. And 10 years ago, we had the first ever WIDA Annual Conference, which was held in Milwaukee right across the street from where we gathered for this year's conference. It was a homecoming of sorts.
Of course, we couldn't let these anniversaries pass without a major celebration. This year's reception effectively served as one big birthday party for the organization and the conference. There were balloons, cupcakes, party hats, a 360-degree camera and a live band! See some of the fun posts people shared below.
A huge shoutout to these educators who make a difference everyday, and Happy 20th Birthday, WIDA! #WIDA2023 pic.twitter.com/sItowGUW0f

— English Language Learners of KCS (@KCS_ELL) October 20, 2023
@WIDA_UW Happy Birthday WIDA🎂🎁🎈#WIDA2023 pic.twitter.com/5KkA2Aiaow

— Kara Friedel (@Kara_esl) October 20, 2023
Happy 20rh birthday @WIDA_UW This was a fantastic birthday celebration 🎉🎈#WIDA2023 @BrutonESL pic.twitter.com/qhYyehl8Bc

— Paula Moore (@Mme_Moore) October 20, 2023
Happy Birthday @WIDA_UW! @TracyMadryga @kd_gaddis pic.twitter.com/DAHCT2DLv1

— Kayla Adams (@KaylaJoAdams) October 19, 2023
A special preview of Marco DALE
A special preview of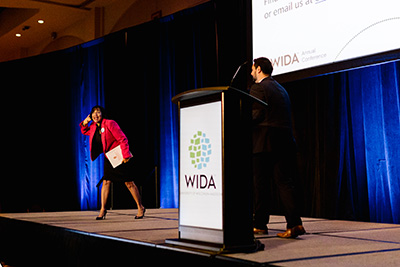 Marco DALE, the new WIDA Spanish language development standards framework, took place during lunch on October 18.
Samuel Aguirre, WIDA Español director, and Mariana Castro, of the Wisconsin Center for Education Research, provided an exciting introduction to Marco DALE and how it guides Spanish language development of curriculum, instruction, professional learning and assessments.
Marco DALE officially launched this week. Learn more about it on the Marco DALE webpage.
Education Week covers virtual session 'Twice Exceptional: District Supports for Teachers of MLs with IEPs'
We had more than 1,300 people join us for our virtual program. Ileana Najarro, a reporter for Education Week, was one of them. If you missed Laura Byard and Kate McNulty's session 'Twice Exceptional: District Supports for Teachers of MLs with IEPs,' read "How Special Ed. and English-Learner Teachers Can Collaborate: A Guide."
In their session, Laura and Kate spoke of how they created a collaboration tool for special education and English language development teachers in their district.
Carmen Ayala rounds out #WIDA2023 by prompting educators to keep 'pushing forward, adelante'
Carmen Ayala, retired Illinois state superintendent of education, closed #WIDA2023 by talking about the value of language, culture and multilingualism, and using student assets to enhance the school community.
Carmen drew on her 40 years of educational experience and her own upbringing in a bilingual home.
"My father would ask us a question in English, and we would respond in Spanish," Carmen said. "My mother would ask us a question in Spanish, and we'd respond in English. I very early on recognized the value of bilingual education."
She talked about building a career in schools that had a majority of multilingual learners and helping to transform those schools into spaces where multilingualism was viewed as an asset. But not without first having to become a "change pain."
"I want everyone in the United States to speak more than just English," Carmen said. "I want the United States education system to be equitable to all students."
Day 3 at #WIDA2023 concluded with an admirable keynote speaker Dr. Carmen Ayala. What an inspirational story…a story of determination to highly value language, culture, and multilingualism in schools. pic.twitter.com/83MKB7HPB1

— Hailed Pérez Thiry (@happyhailed) October 21, 2023
She said that students today are more diverse than ever and that all organizations need to focus on equity first.
"We look back and reflect and we learn from each other, and we grow," she added. "Our passion, our focus and our mindset are drivers that keep us going. As educators I bet the reason you came into the profession is to make a difference."
To be that difference – or change pain, as she put it – Carmen said that it's all about providing rich language support and instruction and "molding that mind that can contribute to something in the future."
"We need to sustain language development in English and as many languages as we can teach our children," she said.
Save the date for #WIDA2024
We hope you'll join us next year for the 2024 WIDA Annual Conference! It will be held October 15-18, 2024, in Pittsburgh, Pennsylvania, under the theme Bridging Cultures, Empowering Multilingual Voices. A curated virtual track will also be available. Watch your email and social media for more details in the coming months.
Submit your #WIDA2024 session proposal
Become a #WIDA2024 presenter and share your expertise with other educators. The window to submit a #WIDA2024 concurrent session and workshop proposal opens on November 13, 2023. Start brainstorming today and check the #WIDA2024 website in November for more info. All proposals are due January 24, 2024.