WIDA Can Do Philosophy: What Does it Mean in Practice?
WIDA Can Do Philosophy: What Does it Mean in Practice?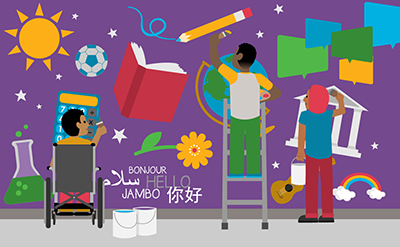 August 8, 2023
WIDA is celebrating its 20th anniversary this year! As a way to mark this occasion, we've asked staff members to write about the ways in which WIDA enacts its mission, vision and values. In the following article, Fabiana MacMillan and Melissa Paton discuss the Can Do Philosophy at WIDA.
Introduction
From their inception almost 20 years ago, the WIDA English Language Development Standards Framework and Assessments have had the Can Do Philosophy at their core. As the name implies, the Can Do Philosophy focuses on what multilingual learners can do and, in doing so, it recognizes that students from diverse linguistic, cultural and experiential backgrounds bring a unique set of assets that have the potential to enrich the experiences of all learners and educators.
How is the Can Do Philosophy present throughout WIDA's practices – in educator learning, in assessment and in communication about student progress? Read more to find out.
Can Do Philosophy in Educator Learning, Research and Practice
The Can Do philosophy is considered and embedded in all our resources and workshops, from initial design conversations to the end result. Especially in the design phase, we endeavor to create practical applications that will encourage educators to act upon how multilingual learners' assets and experiences enrich classroom communities.
Some of the applications that we model during workshops include portraits of students, community quilts or compasses, and student résumés. Each provides a visual for educators to draw upon when designing learning. Portraits are written from a teacher's perspective and meant to be co-created and shared with colleagues. Classroom quilts and compasses are co-created by the teacher and students so that students have a visual representation of the strengths in the room, while student résumés are written from the student's point of view.
What does this look like in practice? When writing portraits during a workshop, a WIDA facilitator noticed that an educator was very distressed. When the facilitator asked her why, she said, "I've been writing in IEPs that one of my students is a slow processor, and that's not what I really mean." Through a conversation, the description was changed to "This student is successful when given ample time to process information." In another conversation, another educator said, "I want to write, 'the student does not comprehend' but I know you'll be mad at me." In the end, the educator changed it to, "This student is able to decode and read with fluency. Our next steps are to work on comprehension."
Why are these subtle differences important for us as educators and for our students? The adjustments to the wording affirm that all students bring strengths and are capable contributors to the classroom. It gives us, as educators, an active role in uncovering and utilizing these strengths in practice.
Can Do Philosophy in Assessment
The WIDA Can Do Philosophy informs the development of all WIDA assessments. We have used a standards-referenced test design, meaning that student performance is evaluated by reference to the WIDA ELD Standards Framework, which describes what multilingual learners can do at different levels of language proficiency in specific grade levels. For example, ACCESS for ELLs and WIDA Screener are structured in a tiered system, with each tier (Tier A, Tier B and Tier C) targeting a different range of language proficiency levels in ascending order. Our goal is to allow students to show what they can do without being overwhelmed by test content.
Can Do Philosophy in Scoring and Reporting
Arguably, the most visible way in which the Can Do Philosophy is applied to WIDA assessments is in scoring and reporting. For instance, the WIDA writing scoring rubric is used to guide raters to evaluate learners' performance in the writing test and identify their level of proficiency. We designed this scoring tool to "capture differences in written responses in terms of positive attributes," according to Mark Chapman, WIDA Assessment and Innovation Manager.1 Both in scoring rubrics and in student score reports, we have chosen descriptors that focus on what students can do at their proficiency level, such as "follow short oral directions with the help of pictures" (Listening; Proficiency Level 2) and "describe familiar issues and events" (Writing; Proficiency Level 3). This is in stark contrast to other assessments, which often have a deficit-focused approach to scoring and evaluate learner responses in terms of the number and severity of errors.
Whether it is applied in educator learning, language assessments, or in any other context, the Can Do Philosophy provides a frame for educators to view their multilingual learners in a new light, which brings focus as to how to harness the power and potential of multilingualism in classrooms. You can read more about the Can Do Philosophy on the WIDA website, and watch a video about it.
About the Authors
Fabiana MacMillan is the director of test development in the Assessment team. She is responsible for overseeing development and design activities for the WIDA suite of assessments, including ACCESS for ELLs, WIDA Screener Online and WIDA MODEL.
Melissa Paton is a professional learning specialist in the Educator Learning, Research and Practice team. She designs and delivers professional learning and resources for educators serving multilingual learners.