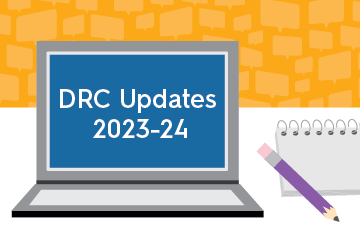 April 24, 2023
Changes are coming to WIDA AMS and DRC INSIGHT in 2023-24! When you log in to WIDA AMS on June 30, you'll notice some big differences in the parts of the site you use most often. Read on to learn what's changing, what's not changing, and how your students will be impacted by the new look and feel of DRC INSIGHT. We'll give you some tips on how to prepare and tell you where to find resources to support you with this transition.
Streamlined, more user-friendly student and test management
You'll notice the biggest difference in student management and test management, where improved filters, sort options, and easy-to-locate buttons will help you quickly find the information you need or the task you need to complete. Going forward, you can
View all student demographic details in one tab, and quickly move to the next to add or remove accommodations in the new student management application.
Review, edit and create new registrations (the new name for "test sessions") on a refreshed test management interface.
Easily navigate in and between applications with clearly identifiable buttons, and quickly locate options to print test tickets and run tier placement reports.
Looking to add multiple students at once? The new import management application allows you to upload a file with your students' information and add those students to automatically generated registrations at the same time. The new application also allows you to identify any errors in your import file and helps you find and correct them.
A new location for reports
We're also transitioning to a more user-friendly way to locate and download WIDA Screener Online, ACCESS for ELLs and Alternate ACCESS for ELLs score reports. Visit the Reporting Services application this summer and fall to download score reports for the 2023-24 WIDA Screener administration. Later in the year, you'll also find the Secure Material Tracking Report, and 23-24 ACCESS score reports located here. Looking for score reports from past years? Those will stay in Report Delivery, where you previously accessed them.
Tip: With the transition to Reporting Services, DRC will only keep the current year plus two previous years' reports in WIDA AMS. If you need to download reports from 2020-21 or earlier, do so before June 30!
A more accessible DRC INSIGHT student browser
The DRC INSIGHT Secure Student Browser is also getting a refresh, for a more accessible student experience.
Some buttons, like Back and Next, have moved to the upper left of the screen. Students will find the icons for universal tools, like the highlighter, notepad and line guide, alongside these buttons. Moving these to the top left means a smoother testing experience for students using screen readers or keyboard navigation.
We've increased the number of magnification options, allowing students to magnify their screen up to four times the original size.
The color contrast options available in INSIGHT have been reduced to those most commonly used by students around the consortium.
Lastly, we've simplified the microphone check experience on the Speaking test.
What's not changing
While you'll need to learn new navigation for some tasks in WIDA AMS, you'll complete many tasks in the same way you do now. Creating user accounts, ordering materials, scoring WIDA Screener responses and conducting data validation will all work the same way they currently do.
Getting prepared
If you'll be administering WIDA Screener Online this summer, we encourage you to take advantage of resources we'll have available to support you:
In early July, we will release a training video providing a brief overview on common tasks in WIDA AMS. Each 1-2 minute segment of the video will show you how to complete tasks like creating a student, creating a registration, and downloading test tickets. Once it's released, this video will be available in the WIDA Secure Portal, under Resources > Screener Online.
Updated test demos, test practice and online sample items will be available in WIDA AMS and DRC INSIGHT at the end of June.
You can review step-by-step directions on how to complete tasks in WIDA AMS through the WIDA AMS User Guide (this document will be updated at the end of June). The new applications in WIDA AMS will also have online help features – look for the question mark icon in the upper right corner once the new applications arrive.
Make sure you schedule some time for yourself to learn the new INSIGHT layout and the new universal tool options. That way, you can support your students if they have questions as they take the test.
In September, take advantage of refreshed ACCESS training courses, which will contain new screencast features to show you exactly how to complete many of the tasks in WIDA AMS.
In the fall and winter, make sure to schedule plenty of time for students to view the test demo and use the test practice ahead of administering ACCESS for ELLs Online.
Lastly, as you become familiar with the changes to AMS and INSIGHT, make sure to send us your feedback! More enhancements to WIDA AMS are coming, so let us know how these new applications work for you.
Resources to support you
We encourage you to bookmark this article so you can revisit it in the fall when you're ready to dive back in to WIDA AMS. Please join us on May 18 for a webinar hosted by WIDA and DRC to see some of these changes firsthand and ask any questions that may have bubbled up as you read this article. We'll also be communicating about these changes throughout the summer and into the fall in our emails, social media and Q&A webinars. As always, the WIDA Client Services Center and DRC Customer Service teams are here to support you. Find their hours of operation and ways to get in touch on the Contact Us page.