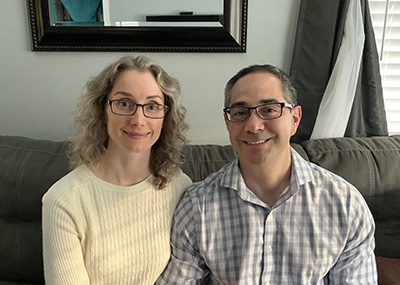 June 3, 2021
In a first for us here at WIDA, we hear from our Featured Educator and the person who nominated her... her husband!
Laura Barry is an English language learner teacher and French teacher at Absegami High School in Galloway, New Jersey. Because of the pandemic, Laura taught from home for the first time in her career. Being at home meant that she had an audience of students – and her husband.
Laura and her husband Tommy Barry met when they were in college, getting degrees in teaching.
"I taught biology and science, so content was first and foremost in my classroom," said Tommy, who is now a casino games supervisor. "I have such a great appreciation for Laura's ability to work with students on a personal level. With a million other things on their minds, she kept her students engaged and laughing within the context of what she was teaching."
Throughout the pandemic, Laura has covered a lot of teaching ground. She's taught students from home and now she is teaching students from her classroom with some students in person and some virtual.
Laura's had to be prepared to teach students in any one of these three scenarios on a given day. As she thinks about the last year and half, it hasn't been without its challenges.
"I've had to engage the students in the room, on a more personal basis, while giving attention to the students who are at home," she said. "There's a lot of back and forth. And little technological issues can make the whole learning process slower and a little more disconnected."
Even though wading through tides of technology can be challenging, Laura said that discovering new technology tools has been one of the things she's enjoyed most over the past year.
"When I first started teaching, we had overhead projectors and a TV and VCR, and that was it," she said. "Now we have so many options."
Laura's really liked using a program called Canva to create her own graphics. If her students are reading a text, she can put the text in Canva and add in her own graphics to personalize it and make it connect to her students more.
"I feel like I'm creating my own original material, like my own signature lessons," she said. "The kids have really enjoyed it too."
The pandemic helped Laura discover these new technology tools that she plans to continue using into the future. She thinks that jumping from platform to platform over the past year has prepared students and teachers to handle whatever is to come.
Tommy agrees and has been impressed by just how much Laura tackles on a daily basis.
"She not only had to learn all sorts of new technology, like how to shoot, edit and upload a video, but then she had to teach students how to access all of that information," Tommy said.
Laura found her way to teaching like many before her: because of a great, inspirational teacher in her life who happened to be her high school French teacher.
It wasn't until she was in college and realized that she had inadvertently taken two of the four required courses to get an ELL certification, that she went ahead and added ELL to her repertoire.
"I actually spent the first three years of my career teaching French," Laura said. "Then, our ELL teacher was retiring, and they asked if I would teach ELL. As soon as I started, I knew I just loved it. I went from having a job to having a vocation."
Once Laura started working with ELLs, she found her passion for and love of teaching.
"There is this glow with my ELL students," Laura said. "They really want to learn and so appreciate the opportunity to learn."
Tommy says that Laura's relationship with her students goes both ways.
"I always see her making connections that I know are lifelong," he said. "When we would go out to dinner, she was always encountering former students and you can tell by their reactions that she made an impression."
As Laura looks ahead to the 2021-22 school year, she is eager to have students back in the classroom but is nervous about the mental health of her students and how they are going to adjust to being in a room of 20 plus other students.
"It'll be interesting and dynamic to be in a room with kids all going through something different," she said. "As an educator you want to help them and teach them, but at the same time it's just a little nerve wracking."
While Laura forges ahead, she wants to keep the momentum going. "I can look back over the year and feel like I really did accomplish things, even though we had less time together and the time we did have together had rough patches," she said. "In the end, the kids really grew, and I grew with them. I'd really like to keep connecting more as individuals and as a community."