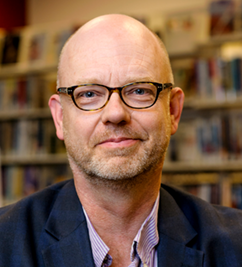 Our Commitment to the WIDA Community: A Message from Tim Boals
Dear WIDA Community,
A couple weeks ago, I mentioned various ways WIDA is here to support you during this uncertain time of the COVID-19 pandemic. As a part of staying connected, we wanted to communicate our commitment to challenging discrimination, biases, and racism in education, particularly toward our Asian, Pacific Islander, and Desi-American colleagues, students, and community members who are or perceived to be from China and East Asia.
WIDA recognizes our connection to humanity and understands how this pandemic exacerbates existing disparities – particularly systemic ones. It is important to understand and reflect on how COVID-19 will continue to highlight and widen societal inequities, further marginalizing vulnerable populations. We also recognize that this pandemic is inspiring great efforts by educators who are promoting opportunities for their students to be better and do more to help in this time of crisis.
WIDA's commitment to challenging discrimination, biases, and racism in education is fueled by our support of educators' extraordinary efforts to adapt and provide meaningful ways for children to continue to maximize their educational potential. We invite our WIDA community, as one that serves a diverse population, to reflect upon the power of unity, advocacy, and challenging discrimination at this time.
Here are some resources WIDA staff collected for you to consider:
Please consider sharing your favorite resources and continue this important discussion with your WIDA community on Facebook and Twitter.

Tim Boals, WIDA Founder and Director
Meet ESOL Teacher Ryan Ariosa from Maryland
April's Featured Educator, Ryan Ariosa, shares his strategies and techniques for effective teaching. Ariosa, an ESOL teacher in Baltimore, Maryland, has been teaching at his school for 10 years. In that time, he's learned what it takes to be part of a virtual classroom, and he and his team provide the WIDA community with their go-to virtual resources.
Complete a nomination form to honor an exceptional colleague.
WIDA Secure Portal Maintenance
The WIDA Secure Portal will undergo required maintenance starting at 5pm CDT on Friday, April 24 through Sunday, April 26, 2020. During this time, you will be unable to access content in the Secure Portal, including the WIDA eLearning center. We apologize for any inconvenience this may cause. We will be up and running again first thing Monday morning, April 27. If you have any questions, please contact the WIDA Client Services Center, help@wida.us or 866-276-7735.
Lorena Mancilla, WIDA director for Early Years, provides parents with tools and resources for learning and working from home
With 40 U.S. states now closing public schools to slow the spread of the COVID-19 virus, parents have had little or no time to plan for keeping their children at home 24/7. Suddenly, and in some cases overnight, families are figuring out how to live, learn and work—together and separately—all under one roof.
WIDA Resources for You
To support multilingual children and students, WIDA provides the following useful and fun resources:
The WIDA Early Years team has developed two free activity books, one in English and the other in Spanish, that allow caregivers, parents, and children to have conversations about the life around them. Not only do these activities promote closer relationships, they also help young children develop and practice important language skills. The booklets may be downloaded for printing and sharing. They are appropriate for children ages 2-7 years.
Five fun WIDA Wallpaper designs are available for your desktop, laptop, tablet or smartphone. Share with fellow educators and students to enjoy as the WIDA community engages in virtual teaching and learning. Download WIDA Wallpaper from the WIDA Resource Library:
In the News: UW-Madison School of Education Ranked No. 1
The University of Wisconsin-Madison School of Education was recently ranked the No. 1 public school of education by U.S. News and World Report. WIDA is proud to be part of the Wisconsin Center for Education Research (WCER) within the UW-Madison School of Education.
Virtual WIDA Workshops
As we all seek to navigate our new realities and distance learning, we understand how challenging and uncertain life is right now. In an effort to support educators of multilingual learners, we are expanding our menu for schools and districts. This means great news in regards to our professional learning offerings, which will now be available virtually. We understand every situation is different, so we invite you to contact Yvonne Williams at yvonne.williams@wceps.org to explore options for your district.
Stay Connected with #WIDA
WIDA staff recently shared #WIDArainbows with the WIDA social media community. Watch the #WIDArainbows video on Twitter or Facebook.
WIDA has launched a WIDA Educator Exchange Facebook Group. The WIDA Educator Exchange is a space to exchange ideas, share resources, and engage in discussion to help multilingual learners succeed.