Back to school 2023–24: Assess, teach, grow with WIDA
Back to school 2023–24: Assess, teach, grow with WIDA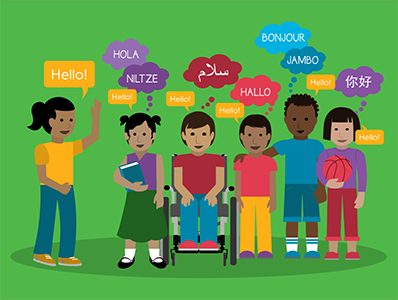 August 7, 2023
Here's a list of what you need to know about WIDA assessments, resources for the classroom and professional learning opportunities for the 2023–24 school year.
Assess
For information about ACCESS for ELLs, WIDA MODEL and WIDA Screener, browse the What to know: WIDA assessments in 2023-24 school year news article.
Start the year understanding what your students can do! As multilingual learners return to the classroom, use WIDA MODEL to get an accurate picture of what they can do. The additional data point WIDA MODEL provides can help measure students' language proficiency growth, inform instructional planning decisions, and support accountability requirements. WIDA MODEL also produces a variety of useful reports, including individual student reports available in 11 languages, that can be used to communicate and engage with parents and families.
Anne Page, a speech and language professional and expert in augmentative and alternative communication (AAC), joined the Advancing ALTELLA team to demo some of her go-to tools and share creative ideas that help multilingual learners who use AAC. Read the interview between Anne and Shea Head, WIDA inclusion researcher, to get insights and tips for how to best support multilingual learners who use AAC.
Teach
Marco DALE, the new WIDA Spanish language development standards framework, is almost here! Marco DALE launches on October 24, with a special preview on October 18 at the WIDA Annual Conference. El Marco de los estándares del desarrollo auténtico del lenguaje español de WIDA (Marco DALE) is a framework for instruction, curriculum, professional development and assessments of Spanish language development of bi/multilingual learners who are learning in Spanish.
Educator and administrator implementation guides for the WIDA ELD Standards Framework are now available! The WIDA ELD Standards Framework Implementation Guide is designed for classroom teachers and instructional leaders, as well as other professionals who work with multilingual learners. It includes guidance about planning for language development in units and lessons, sample resources and ideas for what implementation of the Framework could look like in practice. This guide is accompanied by an Administrator Supplement that focuses on programmatic aspects of systemic ELD standards implementation for school and district administrators.
The WIDA ELD Standards Framework is available in a digital format, allowing for quick and easy reference of grade-level cluster Language Expectations and Proficiency Level Descriptors (PLDs). Use the 2020 Digital Explorer to browse, select and/or print the components of the WIDA ELD Standards Framework that you need. You can view Language Expectations and PLDs together, integrate sets of Language Expectations (e.g., Standard 1 and Standards 2-5) with each other, and easily identify what has changed from one grade-level cluster to the next and from one proficiency level to the next.
Are you a teacher in a PreK-3 classroom? Visit the newly revamped Teaching in PreK-3 webpage for tools and resources geared towards promoting equitable languaging and learning opportunities for young multilingual children.
Visit the Family Engagement webpage for resources to strengthen connections with families.
Grow
Attend the 2023 WIDA Annual Conference virtually on October 18, 2023! This year's virtual track is designed for attendees to experience a sampling of the WIDA Annual Conference. Features include one full day of live sessions, a choice of three sessions during each session block and a live stream of in-person keynote presentations. A recording-only option is also available.
WIDA Español offers professional learning opportunities throughout the year, including webinars and workshops focused on Marco ALE, the WIDA Spanish Language Arts Framework. Find these valuable resources and ways to connect with other teachers on the WIDA Español webpage.
WIDA professional learning offers two formats of virtual workshops that allow consortium members/states to bring quality professional learning right to your computer. Learn more about facilitated and self-paced offerings on the eLearning webpage.
Research
Don't miss the four new Focus Bulletins published this year:
Peruse the Research webpage to dig deeper into how WIDA experts are leading the way on effectively teaching and assessing multilingual learners.
Stay Connected
Get the best of WIDA in your inbox. We offer several newsletters and informational emails on a variety of topics related to multilingual learners. Subscribe to receive messages from WIDA.
Follow us on social media. Connect with us on Facebook, Twitter, Instagram and LinkedIn to stay up to date on the latest news in multilingual learner education and to enter one of our social media giveaways!
Join the conversation with thousands of colleagues. The WIDA Educator Exchange Facebook group is a space where approximately 9,000 members exchange ideas, share resources and engage in discussion to support multilingual learners. The Supporting Success for Multilingual Learners with Disabilities Facebook group has more than 1,500 members and focuses on sharing resources and ideas for supporting multilingual learners with disabilities. The WIDA Enseñando en español Facebook group is for educators of Spanish working with bi/multilingual learners. ¡Nos vemos ahí!
Reach Out
If you need anything from WIDA, our Client Services Specialists are just a phone call or email away. All of us at WIDA appreciate you and want to make sure you have what you need to best support students and families.