Don't forget: #WIDA2023 features award-winning headliners and sessions by teachers, for teachers
Don't forget: #WIDA2023 features award-winning headliners and sessions by teachers, for teachers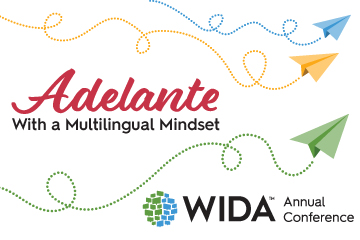 September 11, 2023
The 2023 WIDA Annual Conference (#WIDA2023) is just around the corner! The in-person event takes place October 17-20, 2023 in Milwaukee, Wisconsin at the Baird Center. For those who can't attend in person, a virtual track is also available.
Let's not forget that the WIDA Annual Conference is truly unique in that it's a conference by teachers, for teachers. It gives thousands of educators of Pre-K through grade 12 multilingual learners, from around the globe, the opportunity to share best practices and discover innovative classroom strategies. Here's what an educator and 2022 WIDA Annual Conference attendee had to say about last year's event:
"While other conferences center around research and higher education, this conference was made for teachers, advocates, and coaches who leave the conference to walk right back into a classroom with valuable tools and strategies to implement. The energy was amazing and helped remind me of my true north and purpose as an educational leader."
Now — what you've been waiting for — more information on this year's conference.
#WIDA2023 theme
This year's conference theme is Adelante with a Multilingual Mindset. Here's a note from Tim Boals, WIDA founder and director, on the theme:
"As we look ahead, it's important to consider the past. This year, WIDA celebrates its 20th anniversary, and we celebrate the tenth anniversary of the WIDA Annual Conference. We've learned a lot in those 20 years – lessons that shape our ever-evolving approach and mindset. I like to tell people that WIDA is a work in progress because we are always listening, learning and growing. No matter what, at WIDA, we've always drawn our strength from the belief that everyone brings valuable resources to the education community and that multilingual students enrich the experiences of all learners and educators. We aim to carry this mindset forward as we embark on the next 20 years of learning and growing together! ¡Adelante juntos!"
#WIDA2023 headliners
We're excited to welcome two excellent speakers to deliver keynote addresses during the conference.
Shereen Marisol Meraji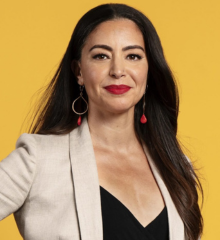 Shereen, founding co-host of the podcast "Code Switch," journalist and educator, will deliver a keynote address on the power of language – how it can both unite and divide, and the connection between language and identity. She'll draw on her experience learning Spanish and on her commitment to ensuring her multicultural, multilingual family doesn't lose its heritage languages.
Shereen is a veteran audio producer and journalist who has been telling stories with sound for more than two decades. She helped create NPR's groundbreaking and critically acclaimed podcast covering race and identity, "Code Switch." During her time as co-host and senior producer, "Code Switch" won numerous awards and Apple Podcasts named "Code Switch" its first-ever "show of the year." She was awarded Harvard's prestigious Nieman fellowship in 2022 before becoming an assistant professor of race in journalism and head of audio at University of California Berkeley's Graduate School of Journalism. When she's not teaching or reporting, Shereen's listening to hip-hop, dancing to salsa or cooking up something delicious.
Carmen Ayala
Carmen, retired Illinois state superintendent of education, will deliver a keynote address on the value of language, culture and multilingualism, and using student assets to enhance the school community.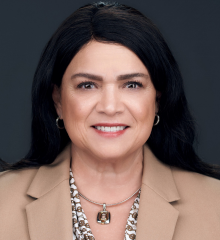 Carmen was the first woman and person of color to serve as Illinois' top education official. Prior to her role as state superintendent of education, Carmen was superintendent of Berwyn North School District 98, where she steadily turned around lower-performing schools. Throughout her career, she served as assistant superintendent for curriculum and instruction at Plainfield District 202 and director of school improvement and programs at Community Consolidated School District 300. She also served as an assistant superintendent, director of bilingual services and teacher in Aurora East School District 131. She began her career in education as a teacher in Chicago Public Schools. Carmen has received multiple honors over the years, including the 2018 Leadership Award and the Excellence in Education Award from the League of Latin American Citizens, as well as the Kane County Distinguished Educator award.
Members of the media: If you are interested in covering either keynote address, contact Hannah Haynes at hrhaynes@wisc.edu. Please note: Coverage of both keynote addresses is limited to print only. No recording devices or photography will be permitted.
#WIDA2023 sessions
Preregistration was required for all conference concurrent sessions. Not sure which sessions you selected? Find your schedule of sessions in your registration confirmation email. You can also see your schedule in the conference mobile app (available to attendees the last week of September).
As a reminder, your registration includes access to recordings from the virtual track after the event. These sessions include:
Análisis de textos para el desarrollo del lenguaje español by Andrea Mercado and Analleli Hernández
Teacher Selected Language Focus: Expectations, Functions, and Features by Terri Mossgrove and Maryna Hadeen
Addressing the Linguistic, Academic, and Socio-Emotional Needs of Newcomers by Silvia Dorta-Duque de Reyes
Collaboration in Dual Language Programs by Joan LaChance, Rocio Hernandez and Andrea Honigsfeld
Genres of Mathematics and Science: Teaching with a Functional Approach by Karen Terrell and Luciana de Oliveira
Implementing the 2020 Edition Language Expectations/Language Functions in Assessments by Justin Kelly and Fabiana MacMillan
Desarrollando español: Authentic Spanish language development with Marco DALE by Sam Aguirre, Analleli Hernández, Margo Gottlieb and Mariana Castro
Bits and Pieces: Examining Language in the WIDA ELD Standards Framework, 2020 Edition by Laura Byard and Katie McNulty
Twice Exceptional: District Supports for Teachers of MLs with IEPs by Margaret Churchill
Attendees will receive access to recorded virtual content on November 6, 2023.
If you are interested in catching the virtual track on your own schedule, a recording-only option is also available for purchase through October 31.
#WIDA2023: Get social!
Share your favorite conference quotes, moments and photos on social media! Use the hashtag #WIDA2023. Follow WIDA on Twitter, Facebook and Instagram before and during the conference to stay connected to the #WIDA2023 buzz and excitement. We're also on Threads; follow us there!