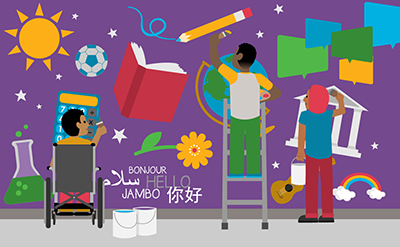 September 8, 2023
WIDA is celebrating its 20th anniversary this year! As a way to mark this occasion, we've asked staff members to write about the ways in which WIDA enacts its mission, vision and values. In the following article Becky Holmes highlights collaboration at WIDA.
Not only is collaboration one of the five values articulated in the WIDA mission statement, collaboration among stakeholders (e.g., district and school leaders, content and language teachers, specialists, support personnel, students, families) is essential for providing multilingual learners with high-quality educational experiences that are coordinated and comprehensive. Why do we place so much emphasis on collaboration here at WIDA? Let's first look at what collaboration means to us as an organization, then see how it influences our work with educators.
Collaboration is in our DNA
WIDA has been a collaboration since its inception. "We've always embraced it!" says Margo Gottlieb, who, along with Tim Boals, founded WIDA in 2003. "You couldn't submit an application for a grant without having multiple states involved." She's referring to the Enhanced Assessment Grant that was awarded by the U.S. Department of Education to the Wisconsin Department of Public Education (DPI), WIDA's first home. Three states were part of the initial project – Wisconsin, Delaware and Arkansas (hence WIDA), and that original grant funded the development of the 2004 English Language Proficiency Standards.
The standards were the basis upon which the flagship assessment ACCESS for ELLs was developed, followed in short order by educator professional learning, research, and an ongoing expansion of resources for multilingual learners and their educators. All of these were developed through collaboration with outside partners (such as the Center for Applied Linguistics, WIDA's partner in test development), with state education agencies (SEAs), and with individual educators in the field.
Collaboration Now
The WIDA Consortium is made up of 41 U.S. states, territories and federal agencies dedicated to the research, design and implementation of a high-quality, culturally and linguistically appropriate system to support multilingual learners in PreK-12 contexts. Having left Wisconsin DPI in 2006, WIDA is now a large project within the University of Wisconsin–Madison's School of Education. This home at the University provides unique opportunities for collaboration, including working with professors on grant opportunities like Project RESPECT, sharing WIDA's standards and instructional resources with students in education coursework, and supporting new ventures, such as the recently created Multilingual Learning Research Center. WIDA puts the Wisconsin Idea into action by drawing on the knowledgeable experts at UW–Madison and sharing with consortium educators to bring the insights of educators back to UW–Madison.
WIDA employs a team of state relations specialists, whose job is to serve as the primary point of contact between WIDA and SEAs. This involves collaborating and supporting SEA representatives on the implementation of WIDA standards and assessments. Most state relations specialists also are engaged in cross departmental projects at WIDA. They bring the voice of the SEAs and their educators to the development of products, services, and strategies.
WIDA receives guidance and input from an advisory board made up of SEA representatives, an advisory committee made up of LEA representatives, and several SEA subcommittees that advise WIDA on specialty topics such as education research, assessment development, technology and national policy. Jonathan Gibson, WIDA Director of Consortium and State Relations, values the collaboration from member SEAs. "The subcommittee structure is essential for WIDA and SEAs to hear each other, share decision making, grow and learn together. Inside this structure it's become more than it was originally. We used to bring things to the subcommittees, where we wanted to hear their approval, opinions, etc. Now, as we deliberate and plan, it's very common to hear that we need to talk to a subcommittee before we move forward. We must get their input as part of what will be the next step."
Collaborating with Educators
With collaboration so deeply embedded in WIDA's structure, it's not surprising that collaboration among stakeholders is one of the Big Ideas that anchor the WIDA English Language Development Standards Framework, released in 2020. It is crucial for the academic success of multilingual learners that both language and content teachers and administrators see themselves as responsible for fostering the language development of multilingual learners, and for systems to move away from the idea that language specialists alone should assume sole responsibility for students' language development. WIDA and its stakeholders live this message every day.
Back in 2012, when WIDA was ready to update the ELD Standards Framework, staff traveled around the U.S. organizing regional meetings to gather educator insights. The success of these meetings led directly to the first WIDA Annual Conference, held in 2013. The 10th WIDA Annual Conference will be held in October 2023 in Milwaukee. The 4-day conference boasts over 1,300 attendees, over 100 sessions, and over 200 presenters. It also provides a virtual track, which evolved to meet the needs of educators during the COVID-19 pandemic. It's the largest conference in the U.S. for educators of PreK-12 multilingual learners.
Educators also collaborated on the development of the popular Can Do Descriptors. Collaboration is essential, because "the world of multilingual education is very small," says Gottlieb. "And those that gravitate toward an asset-based approach are drawn to WIDA." This group also includes educators who collaborate as WIDA Fellows, as participants in research efforts such as Project RESPECT, and who take part in assessment-related activities every year, such as field tests, bias, sensitivity and content reviews, cognitive labs and resource development.
Collaboration provides opportunities to build on student assets and teacher assets. Multilingual learners thrive when we leverage the collective expertise of teachers to integrate language and content learning. And multiple perspectives help us to recognize each student's linguistic, experiential and cultural assets. Are you interested in collaborating with WIDA? Here are some opportunities:
Visit the WIDA website and check out the page called Building a WIDA Assessment to learn about how to get involved in assessment activities.
Nominate an educator to become a WIDA Fellow. Selected candidates serve for one year and have the option to continue for a second. WIDA Fellows provide constructive guidance and feedback on the development of professional learning offerings and serve as classroom implementation experts and critical friends to the WIDA professional learning design team.
Are you an educator in a rural Wisconsin school district? If so, consider participating in Project RESPECT. Project RESPECT is a paid professional learning opportunity for a team of rural K-8 teachers to support multilingual learners. Participants engage in two years of hybrid, inquiry-based professional learning with a cohort of other educators from other rural Wisconsin districts.
About the Author
Becky Holmes is a senior editor on the Communications and Marketing team. She is responsible for helping WIDA content experts develop publications from initial ideas through final production, including materials related to student assessment, English language development standards, PreK-3 resources and teacher professional learning.