Enriching the experiences of all learners, educators, classrooms and their communities
Enriching the experiences of all learners, educators, classrooms and their communities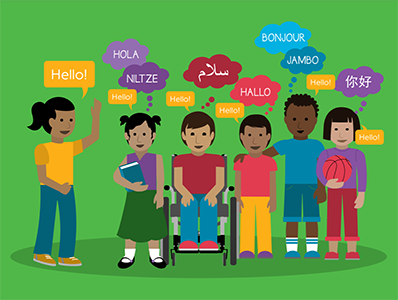 April 3, 2023
April is National Bilingual/Multilingual Learner Advocacy Month. It recognizes that bi/multilingual learners continue to be one of the fastest growing student populations in schools across the U.S., and that these students bring many valuable cultural and linguistic assets that have the potential to enrich the experiences of all learners, educators, classrooms and their communities. As the WIDA Can Do Philosophy states, "By focusing on what language learners can do, we send a powerful message that children and youth from diverse linguistic and cultural backgrounds contribute to the vibrancy of our early childhood programs and K–12 schools." All educators must celebrate the accomplishments, highlight the assets, and affirm the identities of bi/multilingual students while advocating for resources to support them.
Our ideologies and beliefs about bi/multilingual learners can impact the way we teach and interact with these students. "The needs of linguistically [and culturally] diverse students are usually seen as add-ons and peripheral to the functioning of a total school. … [U]ntil their needs are placed squarely in the mainstream of teaching, learning, planning and educational reform, it is unlikely that these students will have access to equitable educational opportunities" (Miramontes et al., 1997). When all educators envision every bi/multilingual learner as capable of being academically successful, it shifts the language used and interactions with them to an asset-based approach. "Educators must understand the range of languages, cultures and experiences that students contribute to the learning environment and strive to develop classroom lessons and routines that honor and include these whenever possible" (Escamilla et al., 2021). If we are not viewing our bi/multilingual students as capable learners, we should ask ourselves what is keeping us from seeing them in this way? And more importantly, what, if anything, can we do about it?
We can begin by reflecting on our own experiences, beliefs and values. We should reflect on how we communicate with our bi/multilingual students and how we speak about them to others. Using asset-based language ensures that we are holding our students up as capable learners and not limiting their access to educational opportunities. When we see all students as capable, it forces us to shift our practice from solely providing remedial support to seeking opportunities and ensuring bi/multilingual students are a part of all educational spaces and programs — including academically talented coursework and STEAM courses. We can also consider the ways in which we provide space within our classroom, schools and the community for these students to demonstrate their expertise and celebrate their identities and language(s). We must intentionally embed multiple opportunities for cultural and linguistic affirmations in their daily engagements with the curriculum throughout the year. This would confirm our appreciation of their various intersectional identities while allowing them to see themselves celebrated for what they bring to these learning communities. In short, bi/multilingual learners must be viewed as valuable and active members of the academic and social spaces they occupy.
Be that as it may, promoting language diversity goes beyond the classroom and schools where our bi/multilingual children attend each day. Bi/multilingual students often extend their cultural and linguistic experience in the larger communities they live in and participate with; therefore, it is imperative that local community leaders and policymakers uplift the cultural and linguistic assets and contributions of the students and their families. As the linguistic and cultural diversity of communities throughout the U.S. continues to expand, it is important to recognize the need to foster greater cultural understanding and respect to promote a sense of belonging for our students and their families. Educators must work to validate the identities, experiences and languages of their bi/multilingual students. Many of our students have a plethora of combined cultural, linguistic, ethnoracial and regional intersectional identities that only grow more diverse with each generation, as reflected in the following lyrics of Lin Manuel Miranda's Broadway Musical In the Heights.
"My mom is Dominican-Cuban
My dad is from Chile and P.R. which means:
I'm Chile-Domini-Curican...
But I always say I'm from Queens!"
These lyrics manage to capture so much complexity about identity, culture and place in a few lines. When we ensure all individuals are valued and supported, we create more inclusive and equitable communities.
Meeting the diverse needs of bi/multilingual backgrounds with the interest of improving social and academic outcomes will require continuous advocacy from educators, communities and policymakers. As U.S. schools struggle with teacher recruitment and retention (Brookings Institute, 2022; Rand Corporation, 2021), the demands made on educators have only increased. At the same time, developing educators and educational support staff with the qualifications and experience to offer the academic and linguistic support, rigor and equitable access to quality instruction will require major investments by way of educational policy and funding. In many cases, focusing on the goal of academic English literacy for increased participation, performance and achievement on English-based instructional tasks, assessments and evaluations has an adverse effect on this diverse population of students. It is evident that these students contribute a gamut of diverse experiential, cultural and linguistic perspectives and embodiments to their academic contexts. Therefore, it is only logical that they equally require a variety of alternative and diverse opportunities and approaches to meet their academic needs and goals. Offering increasingly equitable programming and instruction for academic success — while affirming the identities and linguistic development of bi/multilingual learners — will require educators to continuously partake in the reflective and recursive task of taking inventory of their practices, policies and engagements with their students in the school community. This process will help inform advocacy efforts for the resources and opportunities students and families require, while challenging policies and practices that create barriers that prevent students from flourishing.
Educators, schools and learning communities must advocate for the resources, community partnerships and funding opportunities necessary to develop the capacity of all educators to engage with and promote the cultural and linguistic assets of bi/multilingual students. In addition, schools with greater numbers of these students should be resourced with a variety of educational and extracurricular programs to help students discover and develop their talents outside of an academic context. These are often a great source of confidence for students who may feel excluded from their monolingual peers in the academic classroom setting, as they are afforded the opportunity to engage and socialize with peers in a different context. Finally, educators, schools and learning communities serving bi/multilingual students must engage with local leadership and policy makers in the never-ending struggle to highlight the contributions, achievements and assets our multilingual learners contribute to our educational system and future workforce development. It is of the utmost importance that educators bear witness to the richness, potential for innovation and creativity lying dormant in these students and their families — and to foster their strengths and assets while fanning the flames of their curiosity.
Offering students the space and support to develop and freely express their linguistic identities should be at the forefront of our educational equity initiatives. National Bilingual/Multilingual Learner Advocacy Month celebrates the diversity of languages and cultures in the U.S. and highlights the importance of supporting bilingual and multilingual learners in achieving their academic and personal goals. As spring emerges and educators begin to plan for the last two months of school and reflect on how their schools and communities celebrate and uplift our bi/multilingual learners, how will you focus on your personal and professional development to become the best advocate for your students, their families and your community?
"Language is the road map of a culture. It tells you where it's people come from and where they are going." – Rita Mae Brown
About the Authors
Edith Nava is a National Board Certified Teacher and a professional learning specialist at WIDA with more than a decade of experience engaging with and serving multilingual learners, families, and educators. As a first-generation college graduate and proud daughter of immigrant parents from Guatemala and Ecuador, she believes in the importance of using your skills to transform your communities while building bridges for others to accomplish their dreams. She volunteers and advocates for her community while helping Latinx students pursue higher education.
Andrea Mercado is a career educator currently serving as a professional learning specialist at WIDA. As a heritage Spanish language speaker, she joins the WIDA Español team and strives to support and resource educators working with Spanish bi/multilingual students. As a second generation Colombian American, Andrea feels it is her purpose to uplift, encourage and empower others to express and enact their untapped potential. In her personal life, she volunteers her time to several non-profit organizations, advocating for equity and social justice for marginalized populations.