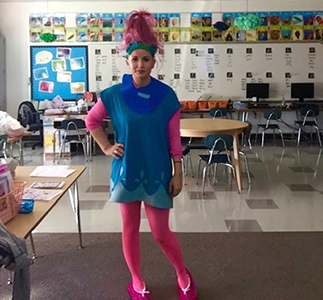 June 4, 2020
It is a well-known fact that a teacher's role and responsibility extend far beyond the corners of their classroom. That was the case long before a global pandemic completely upended the classroom experience.
Madison Leech knows a thing or two about the scope of teaching and navigating, as she aptly puts it, "this wild, unpredictable time."
Leech is an English Language Development (ELD) specialist and co-teacher of second and fourth graders at John Barclay Elementary School in Warrington, Pennsylvania, where she has helped develop the ELD program for the past five years. Even though Leech and her colleagues were on solid footing before the pandemic, she describes how things turned on a dime as the world responded to the challenges of COVID-19.
"As soon as we knew that we might not be coming back to school for some time, we thought of our families who didn't have devices at home and immediately distributed them along with school supplies and resources," Leech said. "It was amazing to see so many people work together to help each other during a time that could have looked like complete chaos – I know we were all feeling the uncertainty and anxiety bubble up."
Leech and her colleagues quickly developed a plan to focus on students' basic needs, like access to food and internet, so they could fully participate in the virtual classroom experience.
"I worked with the principal to distribute meals and get families connected to the internet; calling houses, knocking on doors – whatever we could to get them what they needed," Leech added.
The team at Barclay transformed a monthly farmer's market into a weekly one. From there they supply groceries and hygiene items to more than 200 families each week.
"Now, my weekly focus has shifted to include grocery distribution as well as posting daily lessons," Leech said. (For educators everywhere: she reveals that coffee helps her tackle these additional duties.)
"The most important thing to me is that in person or digitally, the students are able to see my face and hear my voice every day," Leech said. "I want them to know that I'm still here for them, showing up for them. And whether it's a good day or bad day, I'm there to ride the waves with them – we are in this together."
On top of being present and making sure her students have an exceptional virtual experience, Leech sprinkles fun and whimsy on the average online day. She's been caught on camera as a unicorn, chef and detective.
"I don't want to 'phone it in' because we're online," Leech said. "The teaching community has been so creative and innovative about distance learning and it is super inspiring!"
Leech comes to innovation and creativity quite naturally. Before becoming a teacher, she spent time as a tour manager for a rock band, a neurofeedback technician, a case manager for foster care, as well as working at a weight loss boarding school, a residential treatment facility and an alternative school.
Since officially settling on education, Leech says that she loves the community building component of teaching. She thrives on connecting with families and building relationships with students.
At Barclay, the teaching community puts a strong emphasis on co-teaching. And Leech spends part of her time as a content teacher.
"I'm collaborating with teachers outside of my expertise constantly, which is so necessary to becoming well-rounded and builds shared responsibility – rather than my student or your student, it's our student, our expectations," Leech said. "It's amazing to get to see your coworkers in action. There are so many talented educators in our own buildings – it's a treat to get to observe them."
Each week Leech and her colleagues challenge each other to creatively combine language objectives, classroom routines and expectations, as well as content objectives into each lesson. They rely heavily on the WIDA English Language Development Standards.
"WIDA has been one of the guiding forces as language classrooms continue to adapt and change," Leech said. "Whether I was teaching two students or a class of 25, WIDA has helped me to continually provide consistent, high expectations for each language learner and helped anchor me when students were struggling to find footing or I was struggling to navigate next steps with a student." 
Madison Leech's go-to virtual resources*
Now that Leech has been #WFH (Twitter speak for Working from Home) for a good part of this term, she's come to rely on the following virtual resources:
*WIDA does not advocate for or endorse any of these technologies for instruction. Schools, districts and states are responsible for making choices about appropriate and applicable technologies and products.