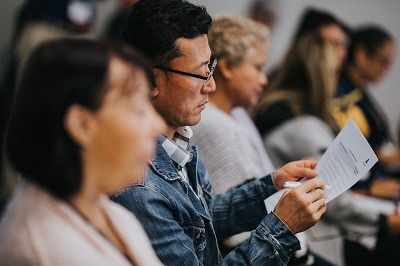 WIDA School Improvement System Webinar
Are you looking for more ways to support schools in their school improvement planning and ELL program evaluation? There's action-based data that can be collected for that.
On August 15th, join WIDA Director of Consortium and State Relations, Jonathan Gibson, and WIDA SIS Project Director, Mark Blitz, in a webinar to learn more about a new school improvement system that supports leadership for teaching English Learner: The WIDA School Improvement System (WIDA SIS). Find out more at the webinar registration page.
Meet ESL Teacher Deborah White from Missouri
Nominated by her principal, Deborah White teaches multilingual children from early childhood through second grade. She is a second generation teacher following in the footsteps of her father who taught for 32 years. But Debra doesn't confine her teaching to the classroom. She engages in conversations with her students at breakfast, in the hallways, at recess, or wherever else they may be.
Don't Miss Out! Sign up for WIDA Screener Awareness Week Emails
Here's a way to learn about WIDA Screener one day at a time starting August 19. By opting in, you'll get a daily message with information about WIDA Screener sent straight to your inbox. We'll help you get started with WIDA Screener, provide details about what you need to do to become a certified Test Administrator and Scorer, and point you to available resources.
Send an email to us and opt-in today!
WIDA Annual Conference
As one 2018 WIDA Annual Conference attendee put it, "This was the best conference I have attended in years… I have already implemented ideas and resources… it was awesome!"
Join us at the 2019 WIDA Annual Conference and see for yourself what makes this the premier event for preK-12 educators of multilingual learners. Visit our website for more information and reserve your spot today!
Third Annual AIERA Conference
The American Indian English Learner Research Alliance (AIERA) is committed to initiating research that advances the linguistic, cultural, and academic proficiency of American Indian, Alaska Native, and Native Hawaiian English learners. Proficiency in these areas is needed to succeed in school and for students to function as effective members of their nations and community, moving fluidly among the languages and cultures relevant to their lives.
AIERA invites educators to participate in the third annual AIERA conference, August 27-29, 2019 in Albuquerque, New Mexico. Visit the event website and register today!
First Semester WIDA Workshops
Act now to secure seats for you and your team at these upcoming WIDA Workshops!
Pedagogía con Respeto: Pairing Languages and Standards to Advance Student Learning (2-day)

Melrose Park, IL | September 5-6, 2019

Pedagogía con Respeto: Pairing Languages and Standards to Advance Student Learning (2-day)

Highland Park, IL | September 24-25, 2019

Educator Collaboration to Support Multilingual Learners (2-day)

Platteville, WI | October 9-10, 2019 

Formative Language Assessment (2-day)

Baltimore, MD | October 22-23, 2019

WIDA Español Pedagogía con respeto: Using WIDA Standards and Tools to Support Multilingual Students (1-day)

Madison, WI | November 20, 2019

Purposeful Lesson Planning for Language Learners (2-day)

Madison, WI | December 11-12, 2019