Conversations with Tim: Examining how the 2020 Edition impacts multilingual learner education
Conversations with Tim: Examining how the 2020 Edition impacts multilingual learner education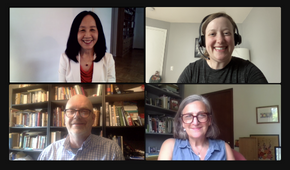 August 17, 2022
This edition of Conversations with Tim features a discussion between Tim Boals, WIDA founder and director, and Okhee Lee. Okhee is a professor of childhood education at New York University's Steinhardt School of Culture, Education and Human Development. She is widely known for advancing research, policy and practice that simultaneously promote science and language learning for all students — particularly multilingual learners.
Tim and Okhee joined Merideth Trahan, WIDA chief of staff, to talk about the WIDA English Language Development Standards Framework, 2020 Edition. Together they reflect on how language standards have evolved, and how the 2020 Edition impacts multilingual learner education.
Listening option: Listen to the audio here or continue reading this abridged version of their conversation.
Tim: I'm thrilled to have Dr. Okhee Lee with us today. She's worked with us over the years. Tell our readers a little bit about the work you do.
Okhee: I've been in academic life for over three decades. I consider myself a STEM educator, with a focus on student diversity, equity and justice, specifically, multilingual learners.
Tim: That's why we are talking with you today! You've been instrumental in helping WIDA move forward with our standards framework. We're certainly going to ask you some questions about that, but let me start by asking what got you interested in the field of multilingual learner education.
Okhee: It's partly because my professional and personal lives intersect. When I reflect on my academic life in the U.S., there have been three events that have defined my commitment to multilingual learners. The first one was when my flight from South Korea touched down at Chicago's O'Hare and I was terrified of being a foreigner in the U.S. I think of myself as having the understanding and empathy of students who were either born here or who come from other countries in terms of language and culture.
The second life event was when I completed my doctoral program and moved to Miami. I was doing research on science education with student diversity and a focus on language and culture. When I was describing my research, the first reaction was: What does language and culture have to do with science? When I was struggling to take my research off the ground, I had a very wise senior colleague who said, "Okhee, keep doing what you do. In no time educators will wake up one day and say, "wow the students in front of me are not the students who used to be in my classroom." At that point, educators will look for research in this area.
The third life event was when in 2011 I came to NYU. I was invited to be a writer and the diversity and equity team leader for the Next Generation of Science Standards (NGSS). I thought this was a huge honor. Typically, when I get this type of invitation, I will spend a day before making the decision. But for this one, it took me about a minute. I wanted to change the system through policy.
Tim: I appreciate you mentioning the transition in education when people realized that language and culture mattered, not just in language arts class. The language and culture students bring to learning is something that matters. I think you're a forerunner in understanding how this matters. We appreciate that about your research.
Tell us about your experience with English language development standards and some of what you've done with WIDA over the years?
Okhee: I want to say thank you to the WIDA team for being progressive. It's such an honor! In recognition of the 2020 Edition, my colleague Scott Grapin and I wrote a piece in TESOL Quarterly.
I see quite a bit of a parallel between the 2020 Edition and the science standards in 2012 and 2013. Traditionally in science education, students sit in a classroom and read science books. The current science standards completely flipped that. This time, it's not that students are receiving the information given by science educators. Instead, students are doing science and engineering like scientists and engineers do. Students are trying to figure out: "What is this phenomenon and how do I explain it?" When I think about the 2020 Edition, I see the same vision.
The 2020 Edition says multilingual learners. It's asset oriented. You speak multiple languages. It's the same vision in science where students bring ideas and meaning-making resources. It's not students who don't have English or English learners, instead students who bring multiple languages.
Tim: You hit upon it, Okhee, when you said the 2020 Edition emphasizes the assets of the student more than any prior edition. It emphasizes the doing of science and the doing of social studies. It's a shift towards engaging students in the doing of and the learning in a more complete way.
Okhee: It's multilingual learners who bring ideas in content areas and who have multiple meaning-making resources to communicate ideas. It means that students are doing something for a purpose. In science, students are doing science. "By doing science, I learn science. By using language, I learn language." The students have the agency. Student agency is so important to student equity. Content and language are so mutually supportive of each other.
Tim: I think this is hugely impactful for our field. You mentioned that the 2020 Edition can be a tool that works together with the NGSS to guide teachers in creating an engaged classroom where students are doing — they have the agency, they're experimenting with science, and they're learning language as a natural part of that process.
Okhee: Another shift I want to talk about is multimodality. English learner education has always been perceived traditionally as junior to English language arts (ELA) because it's in the language family. But when you say multimodality, it's way beyond the linguistic modalities. So, what you have in the 2020 Edition is that the first focus is multilingual learners and then the second focus is multimodality. You give a whole list of nonlinguistic modalities: charts, tables, computational models and gestures. By saying multimodality, English learner education and multilingual learner education isn't junior to ELA anymore. Multilingual education is a field in and of itself. I'm very delighted that the 2020 Edition is respecting multiple languages.
Tim: This notion of multimodalities expands our thinking about what the visual representations, the gestural representations may involve in the science classroom and how those play into meaning-making.
Okhee: Another fundamental aspect of the 2020 Edition I'm so grateful for is that it says all students are engaged — including multilingual learners — in doing. It's just that they do so in different ways, depending on their language proficiency. When I was a leader of the science standards, our motivation was "all standards, all students."
Tim: If you were sitting down with an educator and you were explaining this, what would be the one thing that you would want them to know about this new edition?
Okhee: The 2020 Edition is about multilingual learners who are using multiple languages and are not limited in English: I speak multiple languages and I have ideas. That asset-oriented approach and a willingness to listen to students and give them agency and equity is the most important.
Tim: As we continue to share the 2020 Edition with the field, in addition to emphasizing the messages of asset-based and the doing of science, is there anything that WIDA could develop going forward that would help teachers get a better handle on implementing the standards framework?
Okhee: I hope that more educators are wanting to collaborate with WIDA across content areas. I have two sets of suggestions to consider. One is in terms of the mindset of WIDA. It's so important to build a consensus across policy, research and practice because it's the right thing to do. The second is to be persistent because it's the right thing to do. The science standards are holding policy, research and practice together. WIDA, more than ever before, is going to be the glue to provide new ways of thinking, so that we can take off into content areas — where there is much more progress.
Tim: This coming together of policy and practice is a role that WIDA can play. This new model is helping teachers understand that students don't need to be proficient in English to be participants and engaged in those rich science discussions. Part of that is giving up a need for perfection or the need for correctness.
Okhee: There is a singer named Bonnie Raitt with a song titled "Something to Talk About." If you don't have anything to talk about, you don't have anything to communicate. It's the idea that I have something to talk about and I'm compelled to say it even though I may fumble. In science, we start from what you know, and then I amplify the language to get to the science. Then I amplify science ideas to get to the canonical knowledge of science in the discipline. It's starting from where the students are and then amplifying.
Tim: That's the essence of the asset-based approach, that you start with what the student brings to the table, and you build upon that and it's during the journey that the learning happens, not the other way around.
Okhee: It's the same thing in science. When I have something to talk about, I say: I want to say it. But I don't know how to say it, I fumble, let me put it together. How do I say it? Okay, I think I can put it in language.
Tim: In too many places we've not even allowed the multilingual learner to get into the space of a science classroom where they can have that opportunity to engage because we say, "oh well, they're not ready."
Merideth: Tim, what should current educators be thinking about as it relates to the 2020 Edition?
Tim: Indirectly we've been talking about that: the mindset difference, the idea of getting kids involved in learning, getting them engaged, putting the engagement as the premium upfront and letting go of the need to worry about the language correctness. It'll work itself out over time. Having that confidence that if students are exposed to and engaged in those rich learning opportunities that the students will improve over time.
I focus a lot on this notion of giving students opportunity to learn and what that means for multilingual learners. As teachers we have to ask ourselves: what are the supports that we need to provide to the students in the science class to make sure that the opportunity to learn is real? Those supports might be small group engagement, visuals, moving away from doing a lot of lecturing to a different style of teaching. I think Okhee hit it on the head when she said it's about the mind shift. It's having rich curriculum models and then figuring out how we meaningfully engage students — no matter where they are on the spectrum of learning English.
Okhee, thank you so much for spending this time with us. As always, you've been key in helping our thinking at WIDA as we go forward with a more helpful cutting edge edition of our standards framework.
About Conversations with Tim
Conversations with Tim is a news article series featuring Tim Boals, WIDA founder and director, and other experts as they examine fundamental topics in multilingual education. Together, they discuss the important innovation, research and collaboration taking place today.